Larford Classic Qualifier Sunday 25th September 2016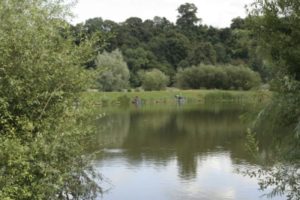 33 angler turned out for this  latest qualifier.
Conditions on the day were mild, highs of 18C.
Winner on the day was Adam Sharman (Larford) who drew peg 7.
Adam fished bomb & pellet, short pole at 6m and later down his edge to finish the day with 160-14-00 and a place in the May 2017 final.
Adam qualifies for the May 2017 final.

2nd overall was Ian Wood  who drew peg 13
Ian fished Method & bomb and later caught on his 6 meter pole line to finish the day  with 133-08-00
3rd placed Neil Colcombe (Larford) drew peg 4 and caught on bomb & pellet and  pole down his margin to finish the day with 127-05-00

4th on the day was Shaun McCarthy (Mosella) who drew peg  19 weighing in 122-09-00

5th place went to Danny Bache who drew peg 28. Danny caught on Method and later at 6m on meat weighing in 113-15-00

6th on the day was Paul Cook (Frenzee) with 108-03-00 from peg 16.

In all there was 9 weights over 100lbs and multiple 80 & 90lb weight like Pete Edwards, pictured with an 18lb grass carp which he landed during the Sunday classic qualifier on the speci lake. Pete finished the match with 90lbs.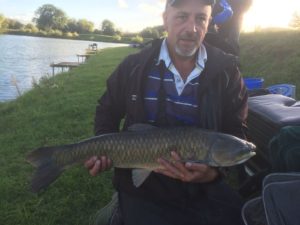 Qualifiers so far-
| Position | Name | Point |
| --- | --- | --- |
| 1st | Winter Wonders | 63 pts |
| 2nd | Tredegar AC | 75pts |
| 3rd | Garbolino & Larford | 77pts |
For more details of the Larford classic click here