Larford Classic Qualifier Saturday 18th February 2017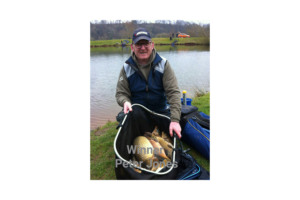 18 anglers fished the Match Lake in cold conditions and breezy 6C conditions today.
1st on the day from peg 28 on the Match grass was Peter Jones (Colmic) who caught 79-01-00 all carp upto 11lbs catching on method feeder down his edge.
2nd was Phil Reynolds (PR Floats, Marukyu & Colmic) on peg 35 match burr with weight of 68-07-00 all carp. Phil caught on 13m soft pellet.
3rd was Ben Lockwood (Larford) on peg 47 his weight was 57-05-00 catching 21-05-00 of skimmers, the rest in carp. Ben caught on 14.5m pole and xpander
4th John Hannan (Cumbran Knobblers) Peg 56 with a weight of 53-06-00. John caught 17lbs of roach topped up with carp at 5m and down his edge
5th Chris Sheppherd (Ponty Pandy A/C) peg 50 with 38-09-00 a mix of silver & carp, he caught on 5m pole and maggot.
6th Harry Harris (Larford) Peg 19 grass bank with a weight of 36-02-00, catching on pole at 14m and pellet.
Peter Jones qualifies for the May 2017 final.
Qualifiers so far-
| Position | Name | Point |
| --- | --- | --- |
| 1st | Winter Wonders | 63 pts |
| 2nd | Tredegar AC | 75pts |
| 3rd | Garbolino & Larford | 77pts |
For more details of the Larford classic click here