Bag'em Larford Classic Qualifer Saturday 25th February 2017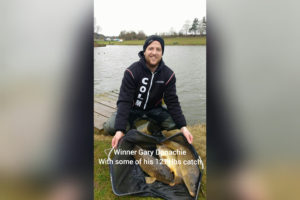 31 anglers fished today in wet, windy and cold conditions on the Match Lake with the top 6 catching over 500lbs!!
1st Gary Donachie (Colmic) with a winning weight of 121-03-00 all carp upto 10lbs. Catching on top4 catching down his edge from peg 48
2nd Jack O'Sullivan (Oakengates A/C) from peg 37 match burr weighing in 94-06-00 all carp he caught on corn at 13m
3rd Stuart Homewood (Scorpion) with a good weight of 85-03-00 Stu caught on method from peg 26 on the Match grass.
4th Ray Lamb (Bag'em Larford) on peg 50 weighing in 82-01-00 catching with method
5th Dave Simpkins, peg 46 with 66-01-00 catching on bomb & pellet.
6th Frank Donachie (Colmic) peg 52 with 63-12-00. Frank caught on method and down his edge.
Gary Donachie qualifies for the May 2017 final.
Qualifiers so far-
| Position | Name | Point |
| --- | --- | --- |
| 1st | Winter Wonders | 63 pts |
| 2nd | Tredegar AC | 75pts |
| 3rd | Garbolino & Larford | 77pts |
For more details of the Bag'em Larford classic click here