Larford Classic Qualifier Sunday 11th September 2016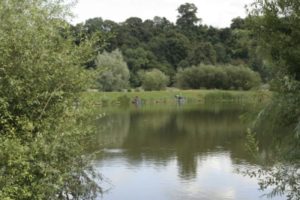 30 anglers Fished the Specimen Lake for the Larford Classic Qualifier Conditions were warm & breezy, highs of 19c
Neil Colcombe (Larford) won the day
with good fish on the pellet waggler and and later short on meat catching carp to 15lbs. Neil also caught some quality bream to finish the day with 141-15-00 from peg 76
Neil qualifies for the May 2017 final
2nd on the day was Danny Baker (Tredegar AC)
who drew peg 72. Danny caught a number of quality carp on the pellet waggler and later caught at 6m with meat to finish the day with 141-04-00.
Danny also qualifies for the final
3rd on the day was Mick Bull (Frenzee)
who drew peg 51 landing 107-14-00 to pellet waggler and long pole.
4th placed Andy crocker
drew peg 64 finishing the day with 105-06-00. 
Andy won his section
5th placed Phil Briscoe (Larford)
drew peg 62, finishing the day with 103-08-00
and a section win
.
6th on the day was Duncan Newton (Tredegar AC)
who drew peg 68 landing 103-07-00
Qualifiers for the May final are Neil Colcombe & Danny Baker
Qualifiers so far-
| Position | Name | Point |
| --- | --- | --- |
| 1st | Winter Wonders | 63 pts |
| 2nd | Tredegar AC | 75pts |
| 3rd | Garbolino & Larford | 77pts |
For more details of the Larford classic click here