Larford Winter League Round 5, Sunday 29th December 2019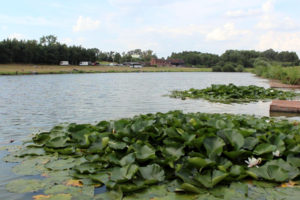 Specimen, Match & Arena Lakes.
Things were getting tight at the top of the league and with just one round remaining, any of the top 4 teams could lift the title.
Conditions for this latest round were not ideal with a stiff breeze hitting all the lakes. Temperatures were around 7C with mainly overcast sky throughout.
Individual winner today was Mark Skidmore (Bait Tec) who drew peg 60 on the Match Lake.
Mark fished the long pole with maggot catching slivers and F1's and later switching to his edge on corn to find a few bonus carp weighing in 104-10-0.
Second on the day was Neil Colcombe (Bait Tec) who drew peg 28 on the Match Lake.
Neil had a slow start but later in the match found the big carp feeding down his edges. Neil fished corn hook bait to land 88-12-0.
Third on the day was Grant Albutt (Bag'em) from peg 16 on the Match Lake.
Grant fished long pole with maggot landing a fine bag of roach, skimmers and F1's to weigh 56-13-0.
Fourth to the frame was Darren Fisher (Vikings) from peg 58 on the Match Lake.
Darren fished long pole with maggot to weigh 54-0-0.
Fifth placed Mag G (Cookies Monsters) drew peg 8 on the Arena and fished long pole with corn landing some very fir carp that touch the scale at 53-8-0.
Sixth to the frame was Liam Dennick (Missfits) with 52-4-0 from peg 52 on the Match Lake Liam fished long pole with maggots.
Teams on the Day
| | | |
| --- | --- | --- |
| 1st | Bait Tec | 11 points |
| 2nd | Viking | 14 points |
| 3rd | Milo MGM | 17 points |
| 4th | Cookies Monsters | 18 points |
| 5th | Brians Boys | 19 points |
Teams Overall after 5 rounds
| | | |
| --- | --- | --- |
| 1st | Cookie Monsters | 81 points |
| 2nd | Winter Wonders | 83 points |
| 3rd (Joint) | Brians Boys | 84 points |
| 3rd (Joint) | Missfits | 84 points |
| 5th (Joint) | Milo MGM | 95 points |
| 5th (Joint) | Bait Tec | 95 points |
| 7th | Vikings | 102 points |
| 8th | Telford TT | 107 points |