Larford Winter League Round 5 | 8th January 2017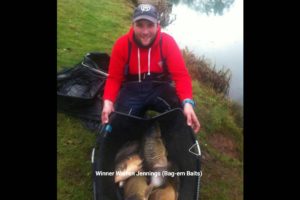 14 teams (of 4) 56 anglers turned out on a much warmer day, although water temperatures were still very low after icing in the week.
Winner overall on the day was Warren Jennings (Bag-em) who drew peg 37 on the Match Lake.
Warren fished 14.5m pole with soft pellet landing 92-02-00
2nd on the day was Neil McKinnon (Garbolino) who drew peg 78 on the Specimen Lake chalet bank.
Neil fished pole & method with pellet to weigh 61-01-00.
3rd placed Mike Williams (Tredegar AC) who drew peg 28 on the Match Lake and fished long pole & down his edge with pellet landing 59-13-00.
4th placed Luke Webster (PR Floats) drew peg 52 on the Specimen Lake catching 47-11-00 to method feeder.
5th placed Richie Hull (Garbolino)  drew end peg 4 on the Specimen Lake burr weighing 46-13-00 on long pole and open ender.
6th overall Max G (Cookie Monsters) who drew peg 14 on the Specimen Lake burr weighing 40-15-00 to Method feeder.
Teams on the day :-
| Position | Name | weight | Peg & Lake |
| --- | --- | --- | --- |
| 5th | Brian Jones (ABC Baits) | 91-11-00 | 50 Match |
| 6th | Ian Wood (Bag'em Larford) | 87-00-00 | 22 Speci |
| 4th | Phil Briscoe (Bag'em Larford) | 102-03-00 | 7 Speci |
| 2nd | Rich Weaver (Tubertini) | 131-04-00 | 56 Match |
| 3rd | Ray Lamb (Bag'em Larford) | 115-13-00 | 7 Match |
| 1st | Paul Cook (Frenzee) | 136-05-00 | 72 Speci |
League overall after 5 rounds- 
| Position | Name | Point |
| --- | --- | --- |
| 1st | Phil Briscoe & Neil Colcombe | 3pt |
| 2nd | Brian Clark & Rich Lawson | 4th (weight) |
| 5th | Rob Wiltshire & Neil Morgan | 7pts |
| 4th | Adam Sharman & Mark Skidmore | 5ps |
| 3rd | Paul Cook & Ray Lamb | 4pts |
Richie Hull also qualifies for the Larford Classic in May 2017