Larford Winter League Round 3 | 4th December 2016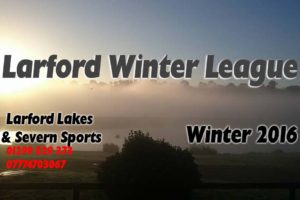 56 anglers fished the 3rd round of the Larford Winter League in freezing cold conditions.
The ice had to be broken on the morning of the match so catches were certain to be low.
Winner on the day was Max G (PR Floats)  who drew peg 30 on the Specimen Lake.
Max fished Method long to weigh 66-10-00.
2nd on the day was Rob Skellet (Cwmbran Nobblers) who drew peg 44 on the Match Lake
Rob weighed 55-00-00 on pole & Method.
3rd on the day was Neil McKinnon (Preston) who drew peg 76 on the Specimen Lake.
Neil caught on Method & open end feeder to catch carp & bream for a weight of 40-02-00
4th placed Warren Jennings (Bagem) drew peg 36 on the Match Lake and caught carp and bream to method weighing 37-06-00.
5th on the day was Martin Harrell (Larford) who drew peg 48 on the Match lake weighing 36-11-00 to Method feeder.
6th placed Chris Senter (Alans Tackle) who drew peg 46 on the Match Lake weighing 35-09-00 to the Method.
Teams on the day :-
| Name | Weight | Points |
| --- | --- | --- |
| Jamie Harrison | 117-11-00 | 7 |
| Spud Murphy | 96-01-00 | 10 |
| Lee Pesticcio | 82-03-00 | 11 |
| Paul Cook | 96-06-00 | 12 |
| Geoff Valance | 93-15-00 | 12 |
| Grant Albutt | 94-05-00 | 14 |
| Mick Bull | 90-15-00 | 14 |
| Mark Turner | 82-04-00 | 14 |
| Ian Morrison | 107-00-00 | 15 |
| Simon Farmer | 85-00-00 | 15 |
League overall after 3 rounds- 
| Position | Name | Point |
| --- | --- | --- |
| 1st | Brian Clark & Rich Lawson | 8Pts |
| 2nd | Ray Lamb & Paul Cook | 9Pts |
| 3rd | Ian Wood & Brian Jones | 11 Pts (weight) |
| 4th | Chris Senter & Max G | 11 Pts |
| 5th | Mick Bull & Warren Jennings | 13 Pts |
| 6th | Phil Briscoe & Neil Colcombe | 17 Pts |
| 7th | Tracey Holland & Tex Anstice | 19 Pts (weight) |
| 8th | Maver Harescombe | 19 Pts |
| 9th | HT Angling | 19 Pts |
| 10th | Simon Harris & Paul Bucknall | 20 pts (weight) |
| 11th | Adam Sharman & Mark Skidmore | 20 pts |
| 12th | Perry Mountain & Rob Cox | 21 pts (weight) |
| 13th | Maver Harescombe Pink | 21pts |
| 14th | Rob Wiltshire & Neil Morgan | 22 Pts |
| 15th | Simon Deakin & Rich Weaver | 26pts |
| 16th | Marcus Watkins & Paul Hull | 33 pts |
Paul Law also qualifies for the Larford Classic in May 2017