Larford Winter League Round 1 30th October 2016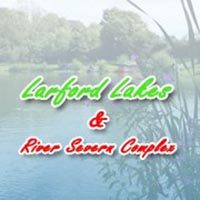 Round 1 of the Larford Winter League saw 14 teams of 4 with 56 anglers fish the Match & Specimen Lake.
1st placed individuals on the day were Chris Cameron( Middy) who drew peg 42 on the Match Lake
Chris landed 210-01-00 on pole  & hard Pellet.
2nd on the day was Paul Cook (Frenze) who drew peg 68 on the speci chalet bank with 168-02-00.
Paul fished Method feeder and long pole & pellet.
3rd placed Rob Skellet (Cwmbran Nobblers) drew peg 46 on the match lake and caught 140-10-00 on pellet waggler.
4th on the day was John Hudson who drew peg 48 on the Match burr bank weighing 134-08-00 on pellet waggler.
5th placed Mark Smith (Old Ghost) drew peg 10 on the Speci burr. He caught on method feeder and at 6m with meat weighing 132-01-00.
6th placed Warren Jennings (Larford) drew peg 44 on the match lake weighing 125-15-00 on paste fishing short.
Teams on the day :-
| Position | Name | Point |
| --- | --- | --- |
| 1st | Muffers Divers (collecting £1,100) | 135 |
| 2nd | Cookies Monsters (collecting £850) | 149 |
| 3rd | Larford Golden Reel (collecting £550) | 151 |
| 6th | Garbolino | 160 |
| 5th | Bag-em Winter Wonders | 159 |
| 4th | Tredegar AC (collecting £300) | 154 |
| 8th | Old Ghost | 179 |
| 9th | Salad Dodgers | 190 |
| 7th | HT Angling | 171 |
| 10th | Cwmbran Nobblers | 194 |
| 12th | Maver Harescombe | 206 |
| 11th | Brian's Boys | 197 |
| 13th | PR Floats | 223 |
| 14th | Sheila's Boys | 237 |
Matt Marshall & Mark Smith also qualify for the Larford Classic final in May 2017