Larford Winter League Final Round | 22nd January 2017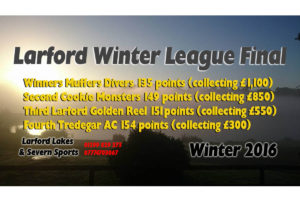 The final round of the Larford Winter League was an ice breaking day for the 14 teams ( 56 anglers), with half of the Match Lake frozen. That being said, most of the top weights came from the Match Lake.
Winner overall on the day was Steve Ford (Garbolino) who drew peg 28 on the Match Lake.
Steve fished long pole & method to land carp and F1's for a winning weight of 100-06-00.
2nd on the day was Perry Mountain (HT Angling) who drew peg 78 on the Specimen Lake chalet bank.
Perry fished method long to land carp & Bream for 91-07-00.
3rd on the day was John Hudson (HT Angling) who drew peg 44 on the Match Lake. John fished pole & method feeder landing 74-12-00
4th placed Martin Tayloe (HT Angling) also drew well and made the most of it landing 74-07-00 of carp & F1's from peg 22.
5th on the day was Chris Senter (Cookies Monsters) who drew peg 42 on the Match Lake and fished pole and method feeder recording 59-08-00.
6th placed Phil Briscoe ( Larford Golden Reel) drew peg 30 on the Specimen Lake catching eight carp to method feeder long weighing in 51-01-00
Teams on the day :-
| Position | Name | Point |
| --- | --- | --- |
| 1st | Paul Cook & Ray Lamb | 15 Pts |
| 2nd | Brian Clark & Rich Lawson | 21pts |
| 3rd | Phil Briscoe & Neil Colcombe | 26pts |
| 4th | Ian Wood & Brian Jones | 28 Pts |
| 5th | Mick Bull & Warren Jennings | 31 pts |
| 6th | Chris Senter & Max G | 32pts (weight) |
| 7th | Adam Sharman & Mark Skidmore | 32pts |
| 8th | Rob Wiltshire & Neil Morgan | 35 Pts |
| 9th | Simon Harris & Paul Bucknall | 38pts (weight) |
| 10th | HT Angling | 38th |
| 11th | Perry Mountain & Rob Cox | 40pts |
| 12th | Maver Harescombe Pink | 41pts |
| 13th | Simon Deakin & Rich Weaver | 45pts |
| 14th | Maver Harescombe | 45pts |
| 15th | Tracey Holland & Tex Anstice | 45pts |
| 16th | Marcus Watkins & Paul Hull | 67pts |
League overall after 6 rounds- 
| Position | Name | Point |
| --- | --- | --- |
| 1st | Paul Cook & Ray Lamb | 25pts (collecting £640) |
| 2nd | Brian Clark & Rich Lawson | 29pts (collecting £420) |
| 3rd | Phil Briscoe & Neil Colcombe | 31pts (collecting £320) |
| 4th | Mick Bull & Warren Jennings | 36pts (collecting £150) |
| 5th | Chris Senter & Max G | 39pts |
| 6th | HT Angling | 41pts (weight) |
| 7th | Adam Sharman & Mark Skidmore | 41pts |
| 8th | Rob Wiltshire & Neil Morgan | 42pts |
| 9th | Ian Wood & Brian Jones | 43pts |
| 10th | Perry Mountain & Rob Cox | 49pts |
| 11th | Simon Deakin & Rich Weaver | 52pts (weight) |
| 12th | Simon Harris & Paul Bucknall | 52pts |
| 13th | Tracey Holland & Tex Anstice | 54pts (weight) |
| 14th | Maver Harescombe Pink | 54pts |
| 15th | Maver Harescombe | 56pts |
| 16th | Marcus Watkins & Paul Hull | 90pts |
Dave Crandon also qualifies for the Larford Classic in May 2017