Larford Summer Festival final- Day 5 Friday 3rd August 2018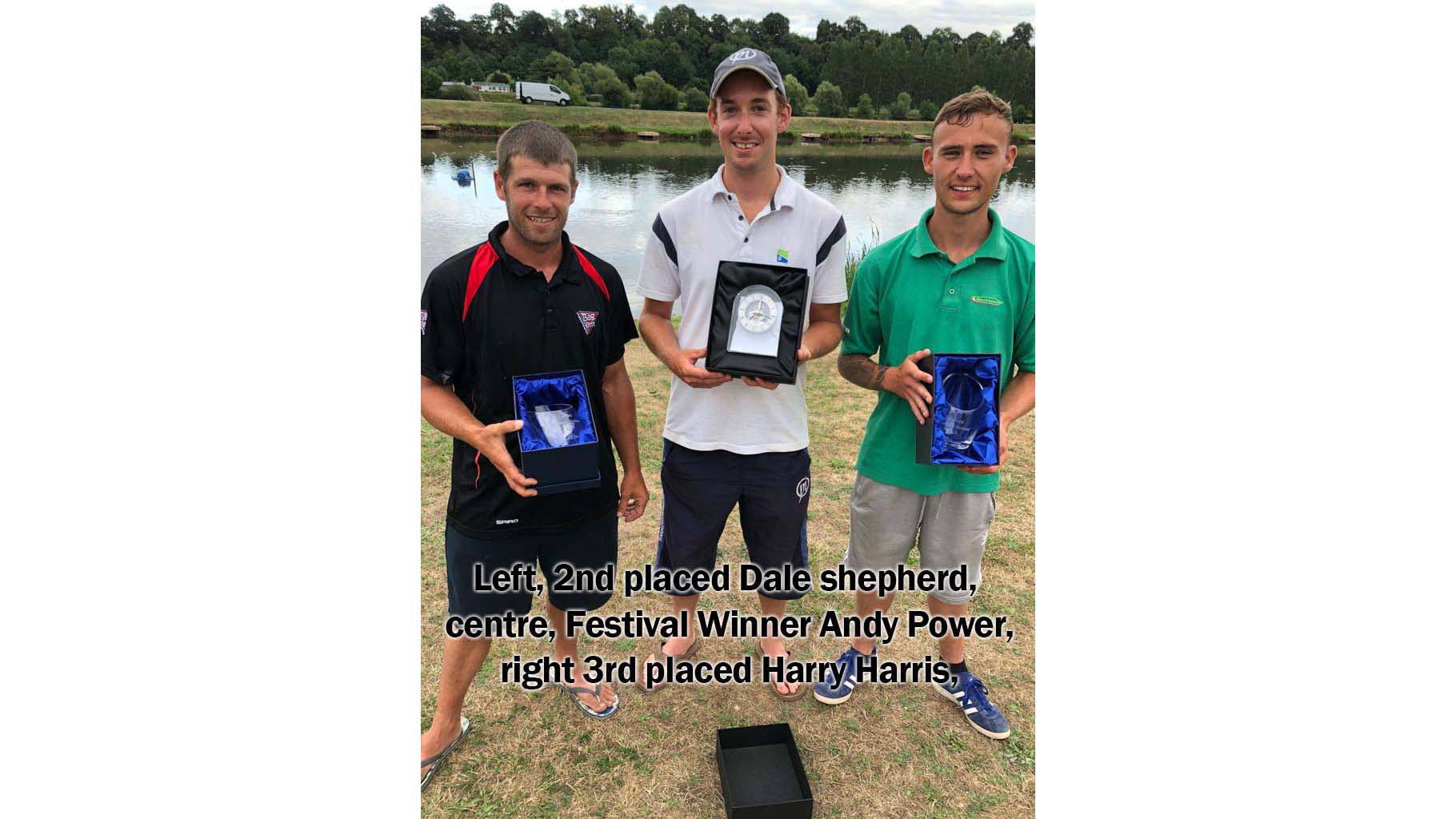 Section A Match Lake
Winner of section A and the Lake winner was Harry Harris (Larford) who drew peg 16.
Harry fished short all day with banded pellet landing a brilliant 104-320Kilos (232lbs).
Winner of section A by default was John Forster (Kinverton) who drew peg 13 catching short on pellet and paste to record a weight of 84-500Kilos (188lbs)
Section B Match Lake
Winner of section B was Andy Morley (Kinverton) who drew peg 66.
Andy caught some fish shallow with pellet but most of his catch came to pole down the margins with pellet recording a big 103-600Kilos (230lbs) leaving him just 2lbs away from an overall lake win.
Section C Specimen Lake
Winner of section C was Dale Shepherd (Maver Bagem) who drew peg 28.
Dale diden't fancy his draw as the peg had struggled all week.
That being said, Dale was positive with his approach feeding 8mm pellet on the pole at 7m.
He caught quality carp early and later switched to his edge to finish the day with 87-680 Kilos (195lbs)
Section D Specimen Chalet Bank
On the opposite bank, Graham Dack had drawn peg 78 attacking his swim on the method and pole short to record 89-900Kilos (199lbs)
His weight was enough to secure the overall lake win.
Winner of the section by default was Roger Young (Oxford) who drew peg 70.
Rodger fished the method, bomb & pellet and pole short to weigh 86-100 Kilos (191lbs).
Section E Arena Lake
Winner of the Arena Lake was Andy Power (Preston).
This was his 4th section win, dropping only 1 point from 5 matches, what a performance!!
Andy drew peg 20 and fished pellet waggler, pole shallow and down his edges recording an easy victory weighing in 64-840 Kilo (144lbs).
Section winner by default was Mick Bull (Frenzee / Bag'em) from peg 24.
Mick weighed in 47-140 Kilos (105lbs) fishing shallow on the pole and down his edges.
And so ends a fantastic festival. The total fish weight for the five days was a massive 13,456Kilos (29,900lbs).
This weigh produced an average weight per angler over the 5 days of 120lbs per man.
Well done to all the competitors who really did enjoy superb fishing all week.
The form of both the Match & Specimen Lakes was outstanding and lining up well for the Golden Reel Final in September.
Records are certain to be broken!
Leader Board top 6 Final Placing
1st Andy Power 6 points (501.670 Kilos) 1114lbs, 223lb per day
2nd Dale Shepherd 9 points (424.500 Kilos) 94316lbs, 188lb per day
3rd Harry Harris 11 points (377.860 Kilos) 839lbs 168lb per day
4th Andy Morley 12 points (385.840 Kilos) 857lbs 171lb per day
5th Mick Bull 14 points (377.340) 838lbs 167lb per day
6th Neil Colcombe 14 points (354.660) 788lb 158lb per day
Overall weight (50 Anglers ) 13,456Kg or 29,900lbs
Average per man 120lbs per man per day.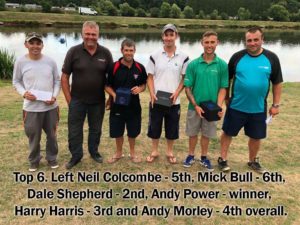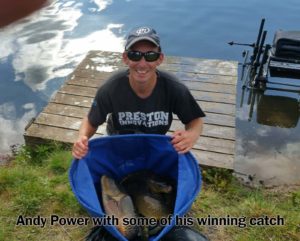 Click here for full table of results