Larford Summer Festival Day 3 Wednesday 1st August 2018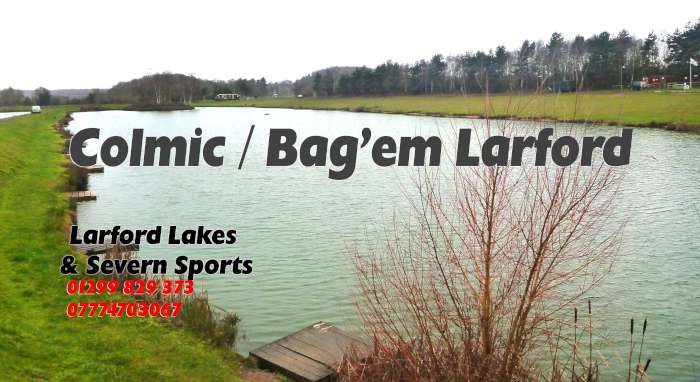 Section A Match Lake
Winner of the Match Lake on day 3 was Ray Lamb with 126-800 kilos (281lbs) from peg 4.
Ray fished short and down his edges with maggot and meat.
Winner of section A by default was Steve Rocke from peg 13 with 90=760 kilos (201lbs)
Rocky fished short and down his edge on pellets and meat.
Section B Match Lake
Winner of the section was Dale Shepherd (Maver / Bag'em) with 99-600 kilos (221lbs)
Dale fished hard pellet short and down his edge.
Section C Specimen Lake
Winner of section C was Mick Bull (Frenzee) with 75-920Kilos (168lbs)
Mick caught on bomb and pellet and method short.
Section D Specimen Chalet Bank
Andy Power (Preston) won yet another section in fine style drawing peg 74 on the chalet bank.
Andy caught mainly on the pole short and down his edges on pellet and meat weighing in 101-300kilos (225lbs) picking up the overall lake win.
Section D winner by default was Matt Marshall (Colmic) who drew peg 70.
Matt weighed in 91-300 Kilos (203lbs) fishing the method short and pole short with hard pellets.
Section E Arena Lake
Lake winner was Martin Room from peg 9 with 67-540 Kilos (150lbs). Martin caught all day on bomb & pellet.
Leader Board after 3 days
1st Andy Power 4 points (311.270 Kilos) 691.5lbs
2nd Dale Shepherd 5 points (312.320 Kilos) 694lbs
3rd Paul Cook 6 points (274.280 Kilos) 609lbs
4th Ray Lamb 7 points (315.180 Kilos) 700lbs
5th Dave Whiting 7 points (303.340 Kilos) 674lbs
Overall weight (50 Anglers ) after 3 days 8553.390 Kilos or 19,006lbs.
Average per man after 3 days 127lbs per man per day.