Larford Summer Festival Day 1 Monday 30th July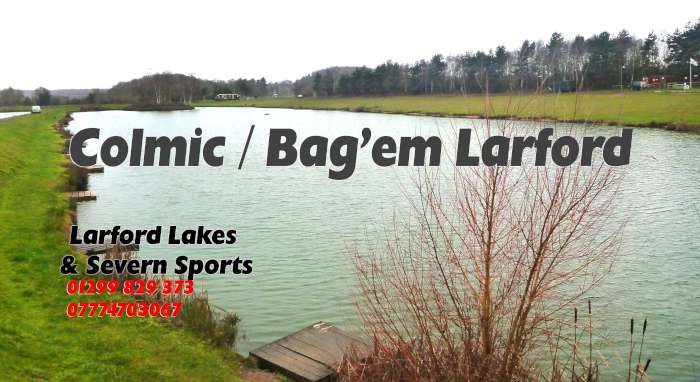 51 anglers on Specimen, Match and Arena Lakes.
Day 1
51 anglers fishing and split between all three lakes, conditions were dull, light showers and a temperature drop to just 19C.
Section A Match lake
Winner today of the lake overall was Dale Shepherd (Maver) with a hefty 134-640 Kilos (298lb) of carp and F1's from 'A' section peg 19.
Dale fished at just 5m with banded 6mm pellet winning his section and the lake overall.
Section winner by default was Andy Morley (Kinverton) with 116-160 Kilo (258lbs)
Andy also fished short with banded pellet.
Section B Match Lake
Winner of this section was Dave Whiting (Decoy) with 107-140 Kilo (237lbs).
Dave fished peg 51 and caught over dead reds with corn and maggots.
Section C Specimen Burr
Winner of this section for day 1 was Andy Power (Preston) with 98-570 kilos (219lbs) from peg 19.
Andy caught on the pole short and method. Later catching down his edge to secure a day 1 section win.
Section D Specimen Chalet Bank
Specimen Lake winner was Steve Rocke (Larford) with a massice 144-320kilo catch (320lbs) from peg 67.
Rocky caught all day on the method, fished at just 6-8m then later down his edges on the pole.
Section winner by default was Craig Priestly with 106-280Kilo (235 lbs) from peg 61.
Craig fished the method feeder and pole.
Section E Arena
Winner of the Arena Lake was Neil Colcombe (Larford) with 53-220 Kilos (118lbs) from peg 22.
Neil caught most of his fish on bomb & pellet and later down his edge on the pole.
Section winner by default was Mark Hawthorne (H.T. Angling) from peg 18.
Woffle caught all his fish on banded pellet short on the pole and down his edge winning the section with 50-720 Kilos (112lbs).
Total weight of fish caught by the 51 anglers for day one was a massive 3,086.860Kilo (6,851lbs).
Average per man on day 1 was 134lbs.
Leader board after day 1
Steve Rocke 144.320Kg 1pt
Dale Shepherd 134.640kg 1pt
Dave Whiting 107.140 1pt
Andy Power 98.570kg 1pt
Neil Colcombe 53.220Kg 1pt