Larford Open | Sunday 2nd September 2018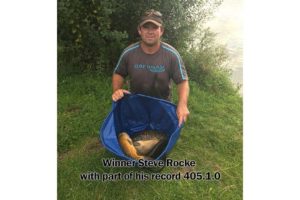 A small open today on the Specimen Chalet bank. 12 anglers fished and weights were fantastic.
Winner from peg 66 was Steve Rocke who caught all day at 14m with the pole and 8mm pellet weighing in 405-01-00 to take the new match record.
2nd on the day was Neil Colcombe who drew peg 70 weighing in 301-04-00 to pellet waggler and pole short with meat.
3rd placed Richard Martin drew peg 68 weighing in 217-06-00 to method feeder and pole short with meat.