Larford Lakes Summer Festival 5th – 9th August 2019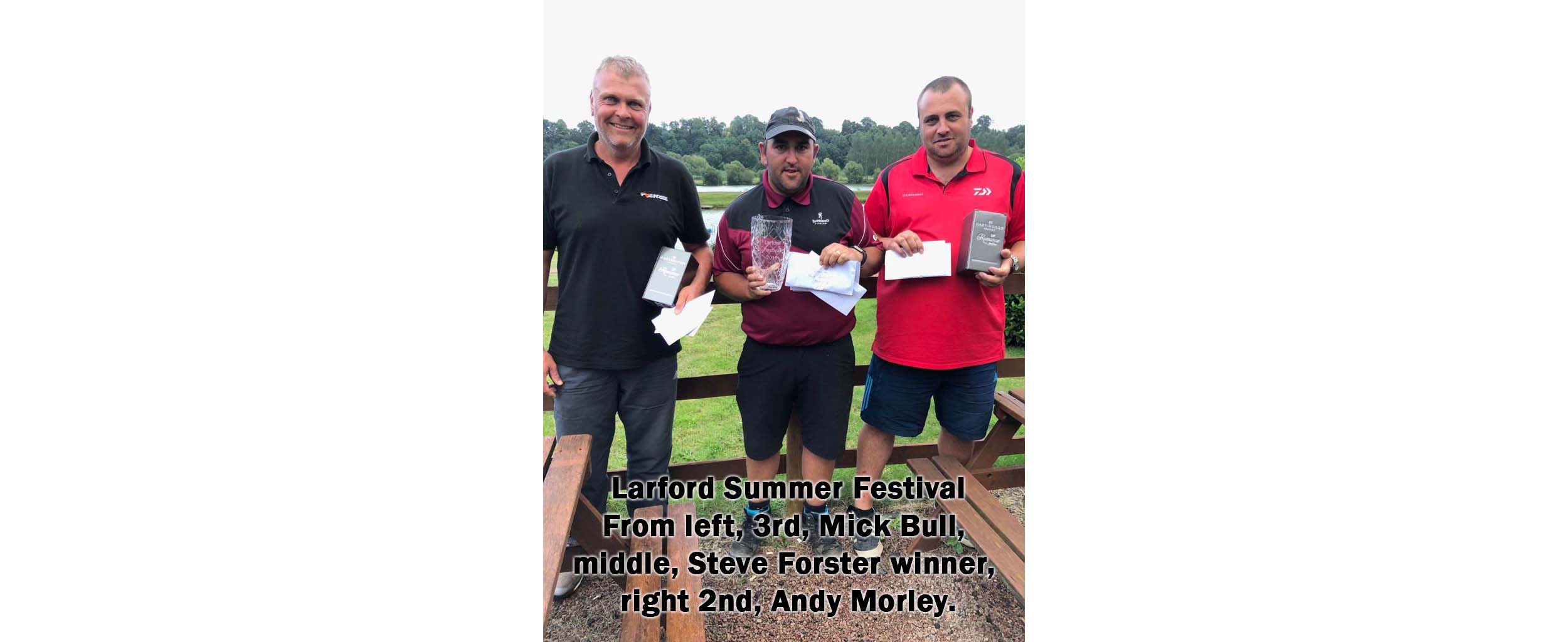 Match & Specimen Lakes
48 anglers enjoyed great fishing at the festival this year.
The festival was decided on weight this year rather than points. The field of anglers fishing over the 5 days recorded a massive 17,000lbs of fish from both the Specimen and Match Lakes.
Winner overall was Steve Forster with a total weight of 842-13-0 over the 5 days.
Day one Steve won the section with 187-0-0 from peg 4 on the Match Lake.
Steve fished meat down his edges for an all carp catch.
Day 2 Steve drew peg 46 on the Match Burr and fished meat down his edges landing a massive 294-7-0.
Day 3 he secured a second in the section with a weight of 93-15-0. Steve drew peg 29 on the Specimen Burr landing carp and bream to the method and bomb and pellet.
Day 4 Steve secured yet again a section win on the Specimen Chalet bank from peg 74 with a weight of 117-4-0, Steve fished the bomb and pellet, method and short pole.
Day 5 Drawing peg 11 on the specimen burr, Steve again secured a section win with 149-1-0. Catching on bomb and pellet and the pole short.
So Steve concluded the week with 4 section wins and a second to accumulate a massive 842-13-0.
Second overall was Andy Morley with a total five day weight of 629-11-0.
Day 1 he won his section with 167-4-0 from peg 19 on the Match Lake.
Day 2 he drew peg 58 on the Match Burr weighing in 96-6-0 and 3rd in his section.
Day 3 weighing in 142-0-0- from peg 5 on the Specimen Burr and third in the section.
Day 4 Weighing in 71-7-0 to secure second in the section from the Specimen Chalet bank, peg 52.
Day 5 Andy won the section with 155-10-0 from peg 55 on the chalet bank.
Third overall was Mick Bull (Frenzee / Bag'em).
Mick drew peg 52 on the Match Burr on Day one, weighing in 105-15-0.
Day 2 Mick won the section with 210-10-0 from peg 17 on the Specimen Burr.
Day 3 – Weighing in 39-9-0 from peg 81 on the Specimen Chalet bank.
Day 4 – Securing a further section win with 142-8-0 from peg 22 on the Match Lake.
Day 5 – Weighing in 97-13-0 from peg 4 on the Match Lake.
Mick's 5 day total was 596-7-0
Top 10 Festival results.
1st Steve Forster 842-13-0 (£1,000 plus section wins)
2nd Andy Morley 629-11-0 (£800 plus section wins)
3rd Mick Bull 596-7-0 (£500 plus section wins)
4th Neil Colcombe 577-13-0 (£250 plus section wins)
5th Ray Lamb 567-9-0 (£200 plus section wins)
6th Martin Room 538-1-0
7th Roger Young 536-6-0
8th Pete Morley 535-2-0
9th Warren Jennings 513-13-0
10th Jeb Atwood 498-4-0