Larford Lakes Round 1 Winter League Sunday 3rd November 2019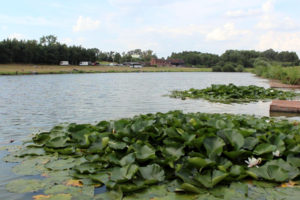 Match & Specimen Lakes, 32 anglers, 8 teams
A difficult first round match as the Specimen Lake had been subjected to adverse flooding.
The chalet bank of the Specimen Lake was un-fishable s the sections on the far side had to be pegged on the Specimen Burr which in effect put 16 anglers peg for peg.
The match lake levels were also extremely high but presented no problems on the day.
Due to the extreme flood water the Specimen lake proved difficult but interesting to say the least.
Overall top six individuals all came from the Match Lake with Ray Lamb (Cookie Monsters) Leading the field.
Ray drew peg 28 on the Match Lake landing 140-14-0 of carp and F1's.
Ray started on the method casting just right of the tip of the island and later caught on the short pole and down his edge to land some decent carp on banded hard pellet.
Second overall was Chris Senter (Cookie Monsters) from peg 50 on the Match Lake.
Chris fished a simple match fishing short on the pole with hard pellet to land 133-11-0.
Third placed Warren Jennings (Bag'em Winter Wonders) drew peg 56 on the Match Lake fishing short and down his edge with hard pellet to land 102-15-0.
Fourth overall was Liam Dennick from peg 48 on the Match Lake.
Liam caught on both the long and short pole with pellet to weigh in 94-10-0.
Fifth placed Simon Harris (Telford T.T.) drew peg 58 on the Match Lake weighing in 92-5-0.
Simon caught short and down his edge on corn.
Sixth overall was Darren Fisher (Vikings) from peg 46 on the Match Lake.
Darren caught most of his carp down his edges fishing over ground bait with dead reds weighing in 90-12-0.
Section Winners –
'A' Grass Bank Match – Ray Lamb
'B' Match Burr – Chris Senter
'C' Speci Burr – Mark Smith
'D' Speci Burr – Jack O'Sullivan
Teams Overall 1st Round.
| | | |
| --- | --- | --- |
| 1st | Cookies Monsters | 8pts |
| 2nd | Vikings | 12pts |
| 3rd | Telford T.T. | 14pts |
| 4th | Missfits | 19pts |
| 5th | Bait Tech | 21pts |
| 6th | Brian's Boys | 22pts |
| 7th | Bag'em Winter Wonders | 23pts |
| 8th | Milo MGM | 25pts |