Larford Lakes Pairs Round 3 | 3rd March 2019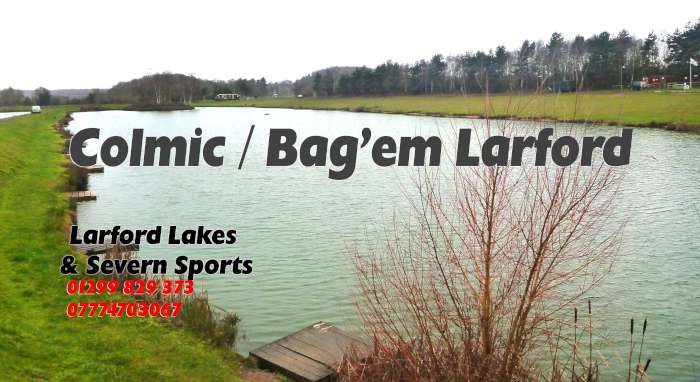 First place was Neil Colcombe (Larford) from peg 52. Neil had a great match catching on paste on his kit weighing in 109-00-00.
Second was Warren Jennings (Bag'em) from peg 46 on the Match Lake and weighed in 78-11-00 and caught on bread down his edge.
Third on the day was Simon Harris (Rod & Gun) from peg 62 on the Match Lake. Simon has weighed in 78-10-00, catching on short and down his edge.
Fourth was Chris Bradney (HT Angling) drew peg 18 on the Specimen Lake. Chris caught on short method and weighed in 71-06-00.
Fifth on the day was Chris Senter (Larford) who drew peg 6 on the Specimen Lake and weighed in 71-00-00, catching on method short.
Sixth was Luke Webster (PR Floats) who drew peg 54 on the Match Lake weighing in 69-06-00. Luke caught down his edge.
Section Winners-
Section A – Neil Colcombe
Section B – Simon Harris
Section C – Chris Senter
Section D – Chris Bradney
Round 3 results
1st Simon Harris / Paul Bucknall 6 pts (weight
| | | | |
| --- | --- | --- | --- |
| 1st | Simon Harris / Paul Bucknall | 6 pts | 143-00-00 |
| 2nd | Mark Skidmore / Chris Bradney | 6 pts | 137-03-00 |
| 3rd | Max G / Chris Senter | 9 pts | 134-11-00 |
| 4th | Neil Colcombe / Steve Rocke | 9 pts | 133-11-00 |
| 5th | Warren Jennings / Mark Smith | 9 pts | 103-09-00 |
| 6th | Ray Lamb / Paul Cook | 10 pts | 116-15-00 |
| 7th | Luke Webster / Perry Mountain | 10 pts | 114-10-00 |
| 8th | Rich Lawson / Brian Clarke | 13 pts | 112-04-00 |
| 9th | Ali Jones / Pete Jones | 18 pts | 85-03-00 |
Overall after 3 rounds
| | | |
| --- | --- | --- |
| Place | Team | Points |
| 1st | Chris Sentre / Max G | 22 |
| 2nd | Ray Lamb / Paul Cook | 24 |
| 3rd | Simon Harris / Paul Bucknall | 27 (weight) |
| 4th | Neil Colcombe / Steve Rocke | 27 (weight) |
| 5th | Rich Lawson / Brian Clarke | 27 (weight) |
| 6th | Warren Jennings / Mark Smith | 37 (weight) |
| 7th | Mark Skidmore / Chris Bradney | 37 (weight) |
| 8th | Ali Jones / Pete Jones | 37 (weight) |
| 9th | Luke Webster / Perry Mountain | 44 |