Larford Lakes Pairs League Final Round | Sunday 24th March 2019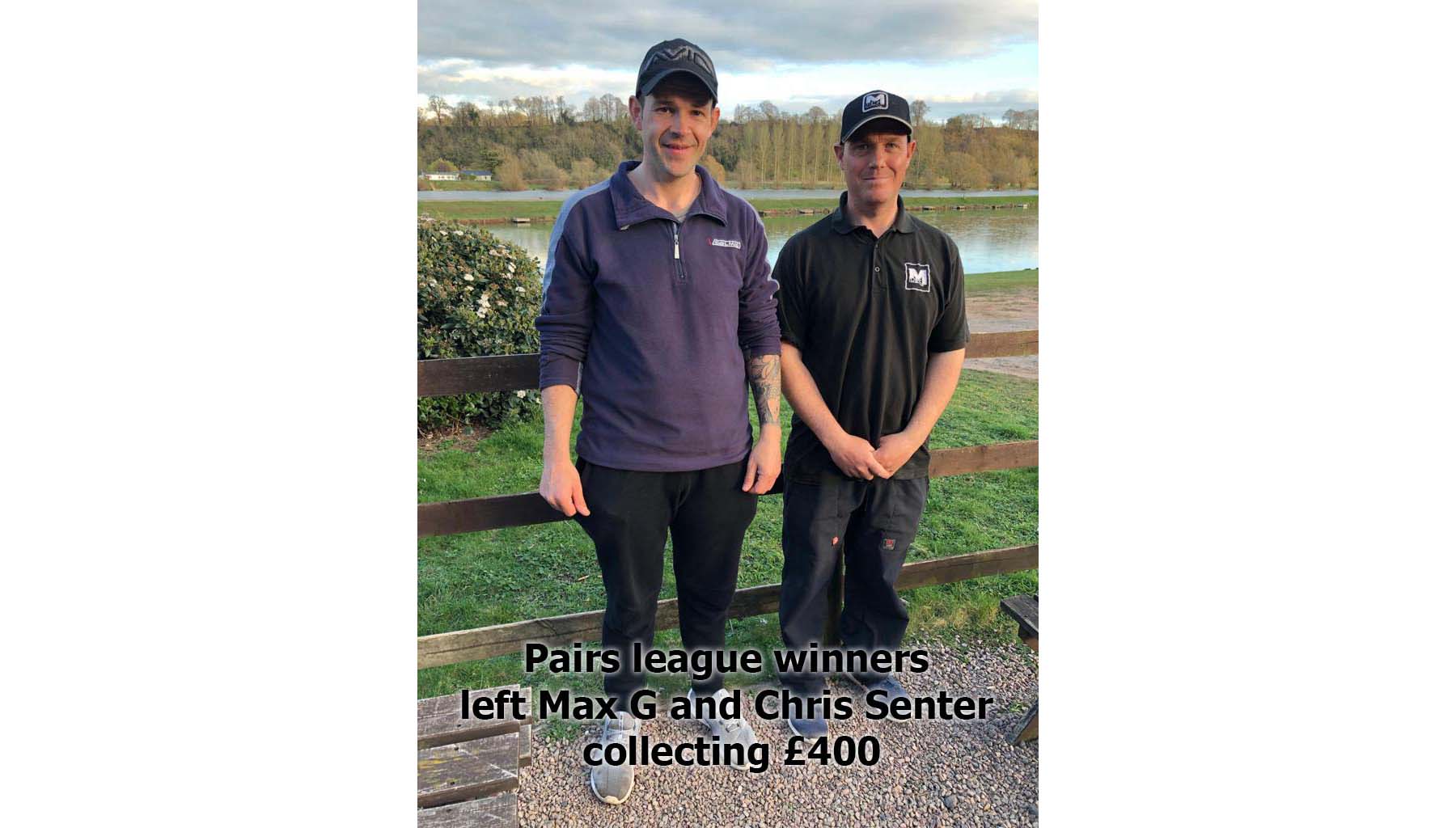 The final round took place today on the Match and Specimen lakes with favourable conditions and highs of around 14C
Top individual was Neil Colcombe (Larford) from peg 56 on the Match Lake.
Neil caught short on paste landing 146-14-00.
Second on the day was Rich Lawson (Total Angling) from peg 62 on the Match Lake.
Rich caught all his fish short and down his edges on pellet landing 135-11-00.
Third placed Chris Senter drew peg 48 on the Match Lake catching carp and F1's both long and short on pellet to weigh 120-01-00.
Fourth overall was Paul Bucknall from peg 4 on the Specimen Lake. Paul fished at 13m with pellet and corn landing big carp to weigh 103-00-00.
Fifth placed Simon Harris drew peg 50 on the Match Lake, catching short and down his edge with pellet and corn to weigh 101-04-00.
Teams on the day
1st Neil Colcombe / Steve Rocke 3 points
2nd Simon Harris / Paul Bucknall 6 points (weight)
3rd Chris Senter / Max G 6 points
4th Brian Clark / Rich Lawson 8 points
5th James Wilson / Mark Smith 9 points
Teams overall after 5 rounds
1st Chris Senter / Max G 33 points
2nd Neil Colcombe / Steve Rocke 37 points
3rd Simon Harris / Paul Bucknall 42 points (superior weight)
4th Brian Clark / Rich Lawson 42 points
5th James Wilson / Mark Smith 48 points
6th Ray Lamb / Paul Cook 54 points
7th Mark Hawthone / Mark Skidmore 66 points (superior weight)
8th Alison & Pete Jones 66 points
9th Martin Harrell / Perry Mountain 73 points
10th Rob Carter / Josh Hughes 93 points