Larford Grand Masters Sunday 23rd October 2016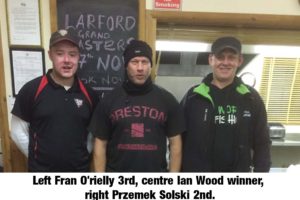 A fantastic match considering the cold conditions.
Winner on the day, collecting £600, was Ian Wood (Larford) who drew peg 75 on the Specimen Lake.
Ian caught on paste at 5m and down his edge to win with 170-11-00.
2nd on the day was Polish rod Przemek Solski who drew peg 10 on the speci burr.
Przemek fished Method feeder at distance to weigh 149-03-00
3rd on the day was Fran O'reilly ( Bagem Baits, Rays Tackle) who drew peg 28 on the match.
Fran fished long pole & pellet and later down his edge to weigh 148-11-00
4th overall was Shaun McCarthy who drew peg 42 on the Match Lake weighing 140-11-00.
Shaun caught on Method and down his edges.
5th on the day was Paul Cook (Frenzee) who drew peg 26 and caught all day on Method weighing 135-11-00.
6th overall was Max G (PR Floats) who drew peg 12. Max caught most of his on method and a few good carp short on pole. Max weighed 139-05-00.
Qualifiers for the Grand Masters Final- 
| Position | Name | Point |
| --- | --- | --- |
| 1st | HT Angling | 16 pts |
| 2nd | Brian's Boys | 19pts |
| 3rd | Cookies Monsters | 23pts |
| 4th | Tredegar AC | 25pts (weight) |
| 5th | Muffers Divers | 25pts |
| 6th | Larford Golden Reel | 29pts |
Przemek Solski, Fran O'reilly & Shaun McCarthy also qualify for the Larford Classic final in May 2017