Larford Classic Final | Sunday 5th & Monday 6th May 2019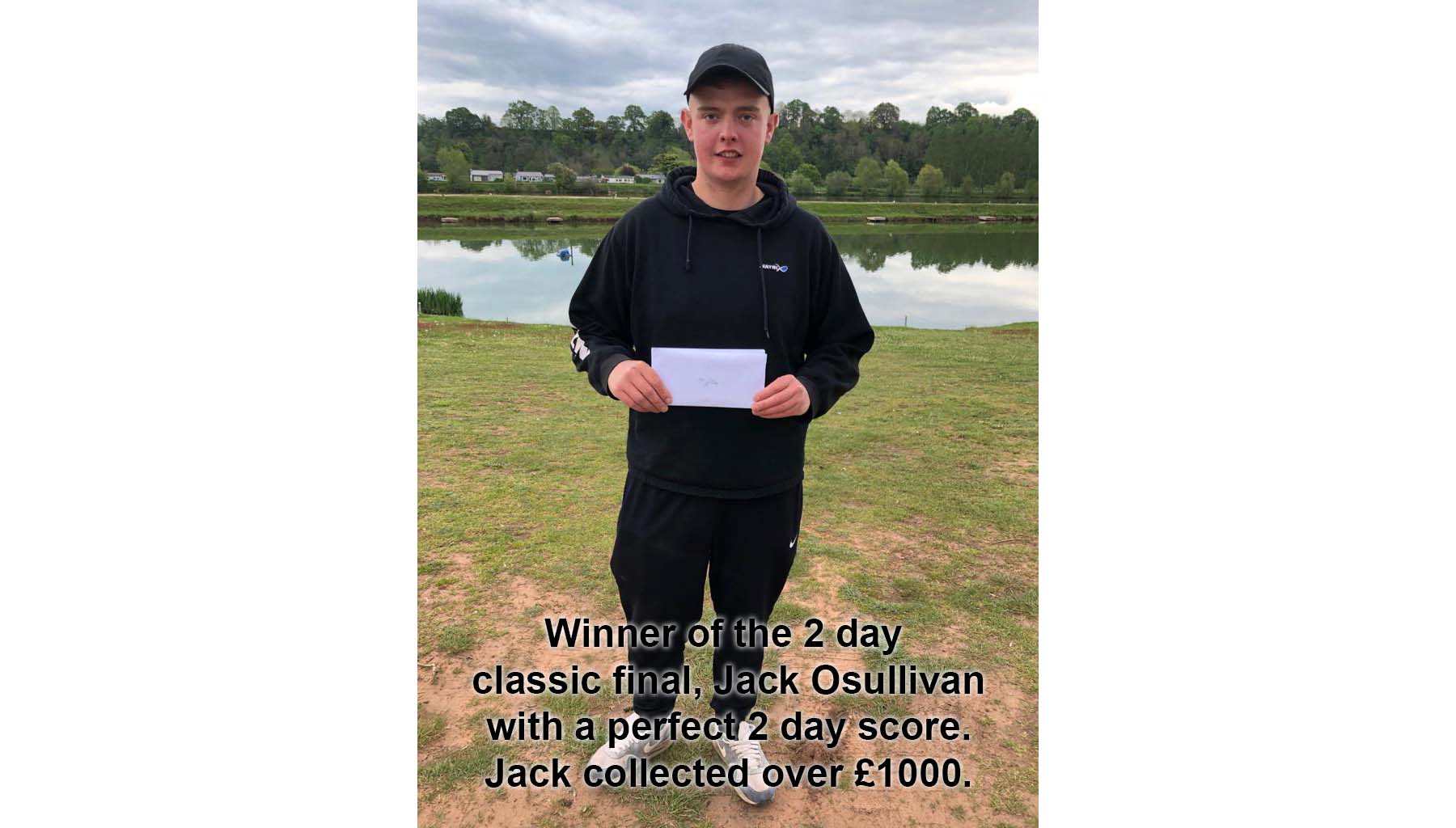 The annual Larford Classic final was again staged utilising both the Match and Specimen Lakes for this popular two day final. Conditions were far from ideal with temperatures of just 8C, making the Bank Holiday weekend one of the coldest on record.
That being said, the fishing was still pretty good with 13 weights of over 100lbs on day one.
Day 1
Section A (Match Grass) was won by Prezmek Solski from peg 20 with 111-06-00.
Prez fished pellet on the pole long and later down his edges.
Section B (Match Burr) was won by Max G from a difficult peg being Match 62.
Max fished long and shallow, 6 meters to depth and down his edges with pellet to weigh in 133-02-00 for a lake win and a comfortable section win.
Section C (Specimen Burr) was won by Mick Bull (Frenzee) with a massive 189-01-00.
Mick fished a simple match fishing on the pole at just 6-8m with corn landing quality carp to 22lbs.
Section D (Chalet Bank) was won by in form, Jack O'Sullivan with 167-00-00 from peg 62
Jack caught on the pellet waggler landing fish to 20lbs.
Day 2
Section A (Match Grass) was won by Paul Cook (Frenzee) with 112-13-00 from peg 28.
Paul fished the long pole mainly down his edges with hard banded pellet.
Section B (Match Burr) was again won by Jack O'Sullivan with 96-07-00.
Jack fished with pellet and corm short and down his edge to secure his second section win and a perfect score.
Section C (Specimen Burr) was won by Steve Rocke (Larford) with a weight of 239-09-00 from peg 24.
Rocky caught down his edge early and later short with pellet and corn.
Section D (Specimen Chalet) was won by Brian Jones (Shunter) from peg 74.
Shunter fished bomb and pellet landing quality carp all day to finish with 148-00-00.
Overall :-
1st Jack O' Sullivan 2 pts
Cumulative weight 263-07-00
2nd Max G 3pts
Cumulative weight 275-12-00
3rd Mick Bull 3pts
Cumulative weight 243-11-00
4th Steve Rocke 3 pts
Cumulative weight 242-06-00
5th Paul Cook 5 pts
Cumulative weight 208-10-00
6th Mark Hawthorne 5 pts
Cumulative weight 168-03-00