Larford Pairs, Larford Lakes 28th August 2016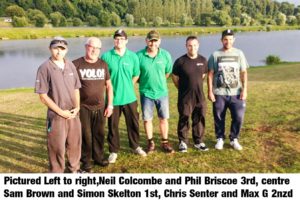 Today's Larford Pairs saw 19 pairs (38 Anglers) fish.
Conditions were very warm, small breeze and heavy showers.
Winner on the day individually was Zac Brown (Preston) who drew Peg 28 on the Match Lake.
Zac caught well all day with banded pellet on the pole and later found big carp feeding down his edge.
Zac finished the day with a superb 205-06-00
2nd on the day was Neil Colcombe (Larford) who drew peg 44 on the Match Lake.
Neil Caught on hard pellets and dead reds down his edge to finish the day with 194-07-00
3rd place Chris Senter (Shakespeare) drew peg 54 on the Match Lake catching well on pellet. Later switching to his edge to find quality carp finishing the day with 184-02-00
Pairs on the day 
1st Sam Brown & Simon Skelton   3pts ( 297-14-00)
2nd Max G & Chris Senter               4pts (260-03-00)
3rd Phil Briscoe & Neil Colcombe  5pts (260-05-00)
4th Danny Baker & Sean McCathy 7pts (183-07-00)