Fur & Feather 17th December 2016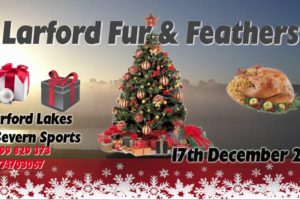 40 anglers turned out for the Larford Fur & Feather match. Great day for all with loads of prizes for all competitors.
The match was fished on the Match Lake, Specimen and Arena Lakes.
Winner on the day was Phil Briscoe (Larford) who drew peg 11 on the Arena Lake.
Fishing method, Phil landed quality carp weighing 91-08-00.
He collected £100 in pools and a 32″ HD television.
2nd on the day was John Jones (Larford) who drew peg13 on the Arena Lake.
John fished method early and then changed to 14.5m and pellet landing carp to 8lbs to weight 80-12-00
3rd on the day was Kristoff Frackowiak who drew peg 9 on the Arena Lake. Kris fished Method to land 71-03-00 of carp.
4th placed Ray Lamb (Larford) landed 53-06-00 to long pole & pellet from peg 61 on the Specimen Lake.
5th placed Harry Harris (Harris Brush) drew peg 67 on the Specimen Lake landing carp & bream for 52-09-00.
6th overall was Bill Cambell who drove from Nottingham.
Bill drew peg 19 on the Arena Lake weighing 52-01-00 on bomb and pellet.
| | |
| --- | --- |
| Section winners were- | A.   Neil Mckinnon |
| | B.   Glynn Reynolds |
| | C.   Neil Colcombe |
| | D.   Ray Lamb |
| | E.   Bill Cambell |