Day 4 Larford Mini Festival Sunday 2nd October 2016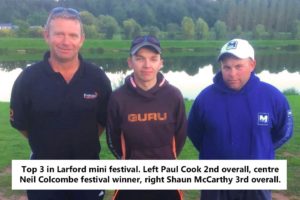 Winner on the final day of this 4 day festival was Neil Colcombe (Larford) who caught a massive 215-04-00 from peg 25 on the Match Lake grass bank.
Neil caught on banded pellet at 6m, later switching to 13m landing mainly F1 carp.
When he switched to his edge it was game over landing quality carp from his edges.
2nd on the day was Paul Cook ( Frenzee) 202-13-00 from peg 54.
Paul caught short on pellet and later down his edge.
3rd Shaun McCarthy (Mossella) with 177-13-00 from peg 45.
Shaun caught on hard pellet short and down his edge.
4th on the day was Ray Lamb (Larford) who drew peg 10.
Ray caught shallow on pellet and later down his edge to weigh 154-13-00
5th on the day was Darren Hudson (PR Floats) who drew 57 peg.
He caught on Pellet short & down his edge weighing 149-11-00
6th on the day was Harry Harris ( Larford) who drew peg 60.
Harry caught most of his fish down his edge weighing 148-14-00.
Festival Winner Overall 
| Position | Name | Point |
| --- | --- | --- |
| 1st | Muffers Divers | 110 |
| 5th | Cookies Monsters | 126 |
| 4th | Golden Reel Larford | 122 |
| 2nd | Garbolino | 119 |
| 3rd | Bag-em Winter Wonders | 122 (weight) |
| 6th | Tredegar AC | 129 |
| 7th | Old Ghost | 147 |
| 8th | Salad Dodgers | 153 |
| 9th | HT Angling | 155 |
| 10th | Cwmbran Nobblers | 164 |
| 11th | Maver Harescombe | 168 |
| 12th | Brian's Boys | 178 |
| 13th | PR Floats | 191 |
| 14th | Sheila's Boys | 199 |
Total weight of fish caught over the 4 days 6,973lbs