Day 2 Larford Mini Festival Friday 30th September 2016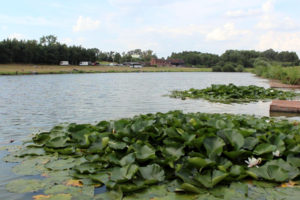 1st on the day was Paul Cook (Frenzee) who drew peg 25.
Paul caught on long pole, 6m with pellet & down his edge to finish the day with 205-05-00
2nd on the day was Sam Brown (Maver) who drew peg 42.
Sam caught Method to the island, 6m and down his edge to finish the day with 205-04-00.
Sam was knocked back by almost 20lbs which cost sam the lake win overall.
3rd placed Chris Cameron (Middy Tackle) drew end peg 28 weighing 182-14-00 and second in his section.
Chris caught on pole & pellet, Method feeder with some quality carp down his edge late.
4th on the day was Neil Colcombe (Larford) with 159-00-00 from peg 45.
Neil Caught on pellet & meat from 6m and down his edge.
5th on the day was Ray Lamb (Larford) with 112-14-00 from peg 51
Overall leaderboard after 2 matches. 
| Position | Name | Point |
| --- | --- | --- |
| 1st | Muffers Divers | 17pts |
| 2nd | Bag-em Winter Wonders | 21 pts (weight advantage) |
| 3rd | Garbolino | 21pts |
| 4th | Tredegar AC | 22pts |
| 5th | Golden Reel Larford | 25pts |