Colmic Bag'em Larford Lakes Pairs Round 3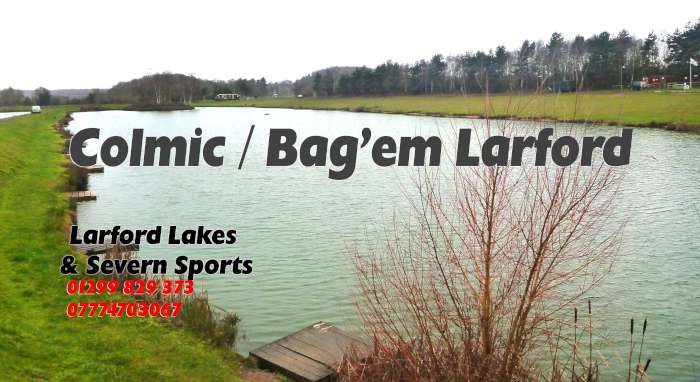 Round three of the pairs took place on Saturday and was won individually by Simon Harris with a weight of 107-06-00 from peg 54 on the Match Lake.
Simon fished short with pellet and corn landing some quality carp and F1's.
Second on the day was Martin Eddis who drew peg 46 on the Match Lake.
Martin fished the method and short on the pole with corn to weigh 61-08-00.
Third placed Brian Jones drew peg 52 on the Match Lake catching most of his fish short with corn to weigh 59-06-00.
Fourth placed Richie Lawson drew peg 48 catching most of his fish to the short pole with pellet and corn to weigh 52-04-00.
Fith on the day was neil Colcombe who drew peg 64 on the Specimen Lake. Neil fished the long pole with pellet and later on his short line with corn to weight 49-14-00
Sixth placed Paul Cook drew peg 68 on the Specimen Lake returning 45-03-00 to corn on the pole.
Teams on the day (top6)
| | | |
| --- | --- | --- |
| 1st | Steve Rocke / Neil Colcombe | 2 points |
| 2nd | Pete Jones / Alison Jones | 3 points |
| 3rd | Simon Harris / Paul Bucknall | 5 points |
| 4th | Alan Sutton / Martin Eddis | 6 points (weight) |
| 5th | Mark Skidmore / Mark Hawthorne | 6 points |
| 6th | Ray Lamb / Paul Cook | 7 points (weight) |
Overall after 3 rounds (top 6)
| | | |
| --- | --- | --- |
| 1st | Simon Deakin / Rich Weaver | 13 points |
| 2nd | Steve Rocke / Neil Colcombe | 15 points |
| 3rd | Brian Clark / Rich Lawson | 16 points |
| 4th | Ray Lamb / Paul Cook | 17 points |
| 5th | Simon Harris / Paul Bucknall | 19 points |
| 6th | Ian Wood / Brian Jones | 20 points |