Colmic Bag'em Larford Lakes Pairs Final Round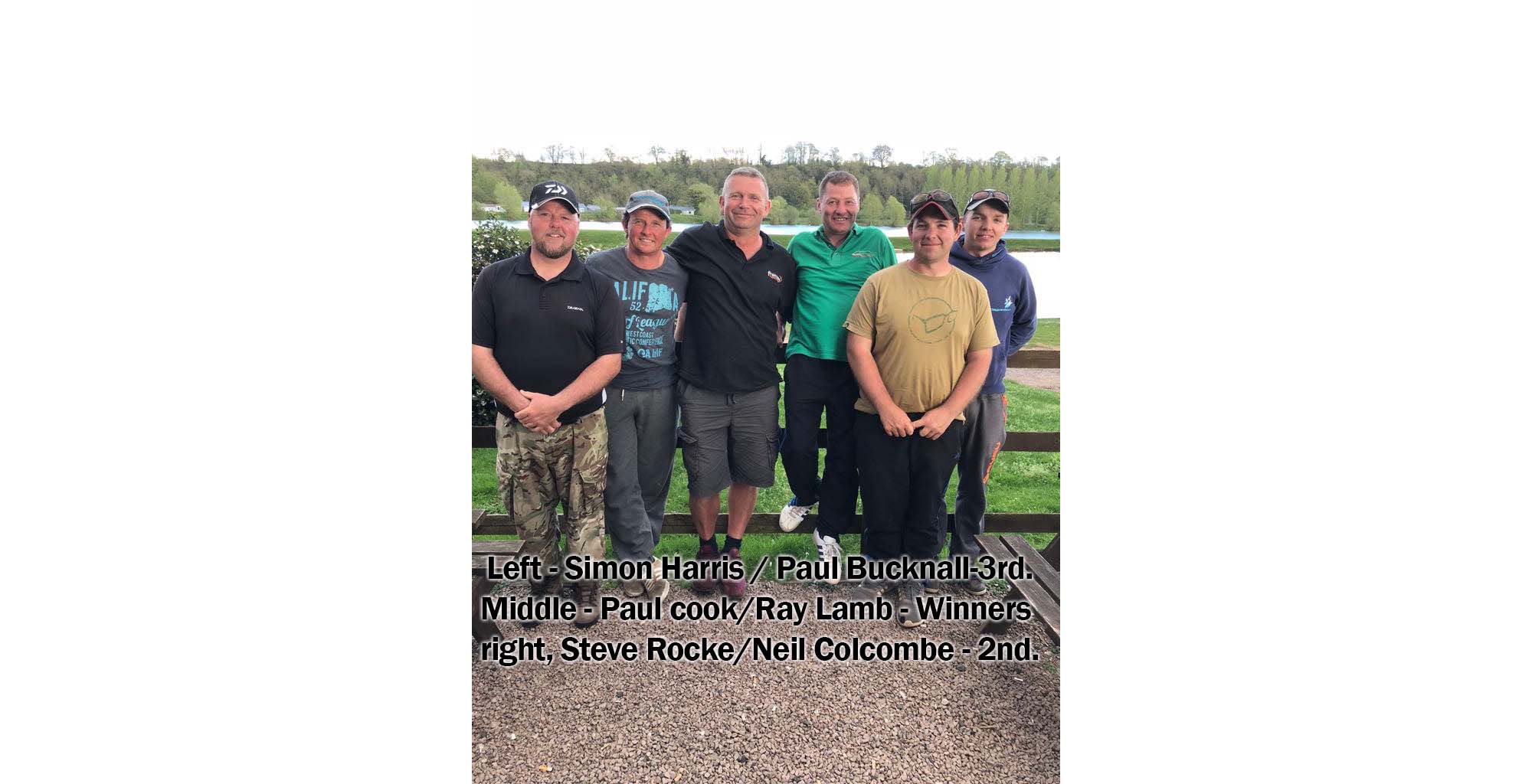 The final round of the pairs league went ahead on Sunday with near perfect conditions.
The recent introduction of 4000 F1's into the Match Lake certainly woke up the big F1's and carp and catches were very impressive all round.
Winner individualy today was Neil Colcombe (Larford) who drew peg 82 on the Specimen Lake.
Neil fished pole down his edge with corn & pellet landing a massive 230-10-00.
Second on the day was Ray Lamb (Larford) who drew peg 16 on the Match Lake.
Ray caught over 70lbs of the new F1's back up with some larger resident F1's and carp to weigh 199-06-00. Ray caught all his fish on pellet & corn.
Third placed Paul Cook (Frenzee) drew peg 4 on the Specimen Lake and fished the long pole shallow with pellets and also short to weigh 186-14-00.
Fourth on the day was Brian Jones who drew peg 48 on the Match Lake weighing in 165-11-00.
Brian fished the pole short with pellets catching quality carp and F1's.
Fifth on the day was Chris Bradney who drew peg 44 on the Match Lake.
Chris fished pellets short and down his edge, weighing 150-10-00 of F1's and carp.
Sixth placed Steve Rocke drew peg 4 on the Match Lake weighing in 149-00-00 to the pole & pellet.
Pairs on the day:-
| | | |
| --- | --- | --- |
| 1st | Ray Lamb / Paul Cook | 2 points |
| 2nd | Neil Colcombe / Steve Rocke | 3 points |
| 3rd | Ian Wood / Brian Jones | 4 points (weight) |
| 4th | Perry Mountain / Chris Bradney | 4 points |
| 5th | Simon Harris / Paul Bucknall | 5 points |
Overall after 5 rounds
| | | |
| --- | --- | --- |
| 1st | Ray Lamb / Paul Cook | 23 points |
| 2nd | Neil Colcombe / Steve Rocke | 24 points |
| 3rd | Simon Harris / Paul Bucknall | 27 points |
| 4th | Ian Wood / Brian Jones | 31 points (weight) |
| 5th | Perry Mountain / Chris Bradney | 31 points |