Bag'em Larford Pairs Match | Sunday 16th July 2017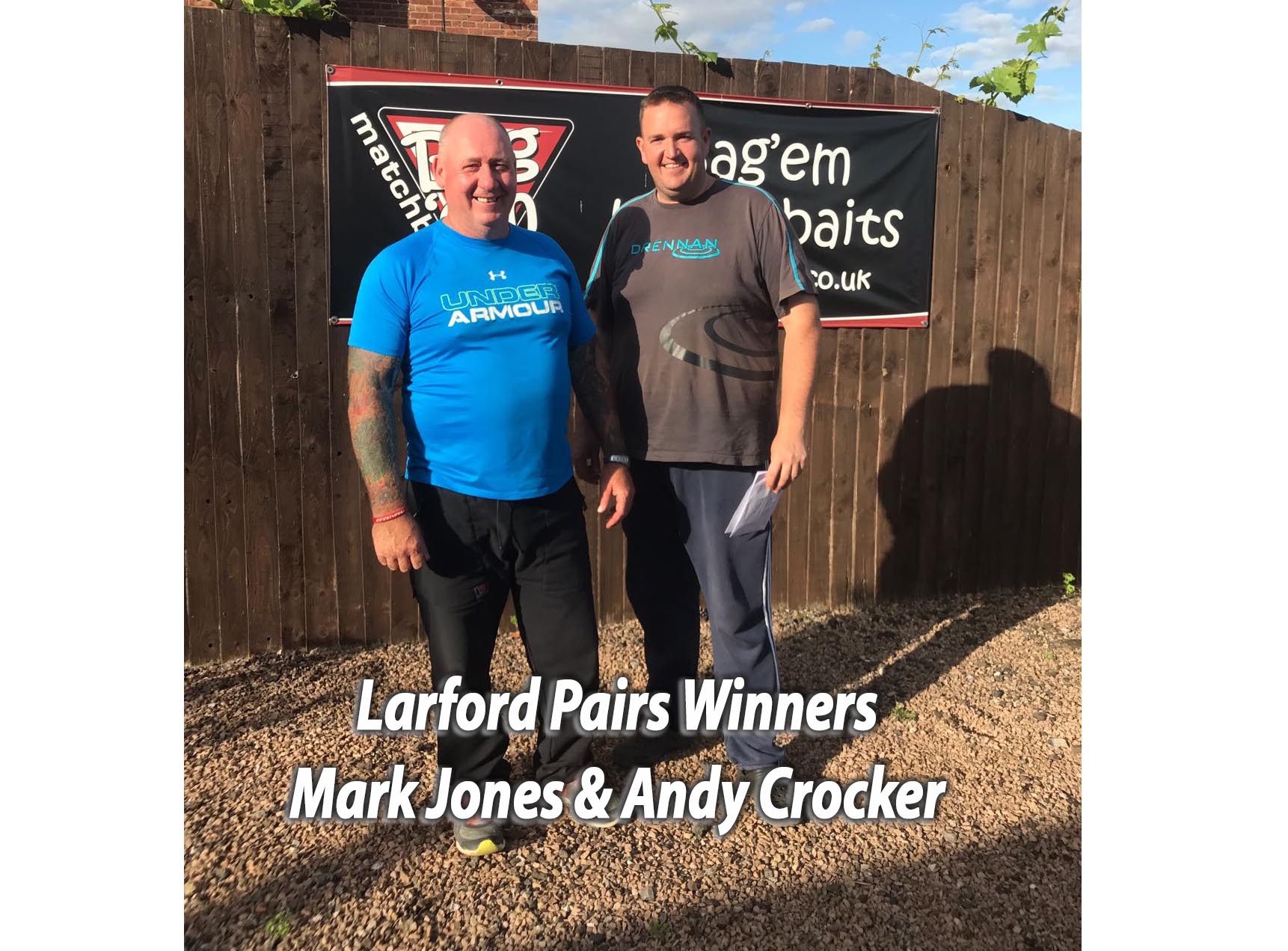 28 pairs fished the latest Larford Pairs match on the Specimen & Match Lakes in sunshine & showers with highs of 21C.
Winners were Mark Jones & Andy Crocker with a combined weight of 202-14-00 picking up £700 with 3 points.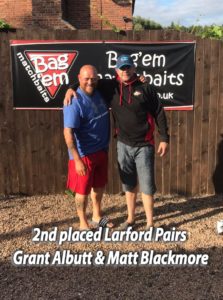 2nd on the day was Grant Albutt and Matt Blackmore with a weight of 189-05-00 picking up £500 with 3 points.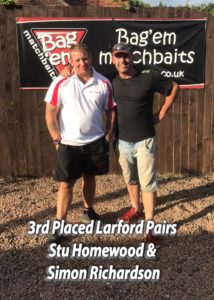 3rd was Stu Homewood & Simon Richardson weighing in a combined 185-00-00 picking up £400 with 5 points.
4th on the day was Ian Wood & Brian Jones with a weight of 171-08-00 winning £250 with 5 points
5th placed Richie Hull & Kieron Rich weighing in 171-05-00 winning £102 with 5 points.
6th was Paul Cook & Ray Lamb weighing 196-05-00 with 6 points.
Section winners picking up £50 each –
Section A Phil Cunning
Section B Ray Lamb
Section C Matt Blackmore
Section D Kieron Rich
Section E Max G
Section F Gary Lewis
Section G Ian Wood
Section H Andy Crocker
Individual weights-
1st Ray Lamb (Larford) from peg 24 match grass 146-01-00, Ray caught on method feeder.
2nd on the day was Kieron Rich (Middy) from peg 46 on Match Burr with 129-11-00, fishing short pole shallow and down his edge.
3rd was Max G (PR Floats) from peg 10 on the Specimen Burr with 120-13-00, fishing pellet waggler and 5m on meat.
4th placed was Simon Richardson (Fatty's bait & Tackle) from peg 48 on the Match Burr with 117-02-00, fishing short on meat and ground bait and maggots down his edge.
5th on the day was Mark Jones (Wales) From peg 28 on the Match Grass with 115-08-00, fishing method feeder and down his edges.
6th on the day was Lee Werrit (Wales) from peg 44 on the Match Burr with 114-02-00, fished short and down his edge on ground bait and maggots.