Bag'em Larford Lakes Silver Fish 4 day Festival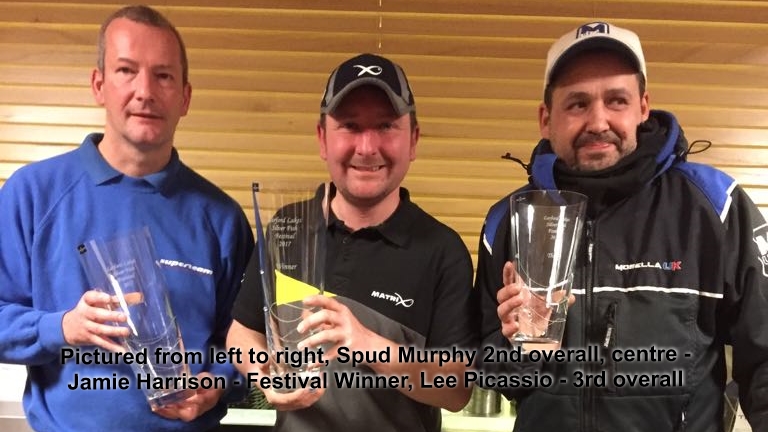 Monday 27th February – Thursday 2nd March 2017
41 anglers entered the popular Bag'em Larford Silver Fish Festival and were all rewarded with tremendous fishing on both the Match & Specimen Lakes.
Conditions were nothing short of awful with drowning rain, overnight frost and a strong freezing wind. Despite near arctic conditions, bream, skimmers, roach & rudd fed in numbers.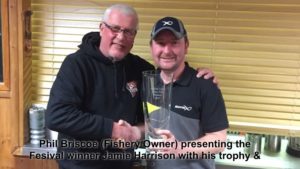 Overall winner was Jamie Harrison (Matrix) who fished a near perfect 4 day festival.
Jamie drew the Specimen Lake for the first three days and the Match Lake on day 4 finishing the festival with 7 points, recording 2points on day one, 1 point on day two, 1 point on day three and 3 points on day 4, recording a total weight of 117lbs – 11oz
Jamie's method throughout  the festival was cage feeder, fished at 15m and 30m with dead reds.
Jamie collected £1000 for the festival win plus lake and section wins, netting him £1300 in all.
2nd overall was Spud Murphy (Tredegar) who recorded a 10 point total and cumulative weight of 96-01-00. Spuds approach was cage feeder & pole which accounted for quality skimmers and bream all to dead reds fished over ground bait
Spud collected £750 for second place plus section wins
3rd placed Lee Pesticcio (Tredegar AC) fished a steady match scoring an 11 point total and a cumulative weight of 82-03-00
Lee's approach was cage feeder & dark groundbait with dead reds on the hook.
He was rewarded with some good bream, skimmers and roach and collected £500 overall.
4th on the festival was local angler Paul Cook (Frenzee) who landed a total of 96-06-00 to cage feeder & red maggot. Paul scored 12 pts with a superior weight to 5th placed Geoff Valance. Paul collected £350 plus section prizes .
5th overall was Geoff Valance who landed 93-15-00 and a 12 pts overall score collecting £150 plus section wins.
Geoff's attack was cage feeder at both 15m and 30m with dead maggots fished over groundbait.
Top 10 placings:-
| Position | Name | Peg | Method | Weight |
| --- | --- | --- | --- | --- |
| 1st | Ray Cossins (ABC Baits) | 46 Specimen Lake | Method & Pole | 120-09-00 |
| 2nd | Harry Harris (Larford) | 39 Match Lake | Margins | 119-07-00 |
| 3rd | Chris Cameron ( Middy Old Ghost) | 18 Specimen Lake | Method | 118-04-00 |
| 4th | Chris Shepherd ( Pontypandy) | 28 Specimen Lake | Margins | 107-02-00 |
| 5th | Neil Morgan (Cwmbran Nobblers) | | | 97-04-00 |
| 6th | Geraint Powell | | | 85-07-00 |
In total, 2735lbs of fish were weighed in despite a number of anglers not weighing on day 4 so the average being almost 67lbs per angler.
The star performer by way of the lakes was the Match Lake which produced stunning bags of skimmers, odd big bream, roach & rudd.
To win on the Match Lake, 30lbs each day was required with almost every angler in the section requiring 25lbs or more to finish in the top 5 of the section.
Superb fishing and very friendly field of angler.
Hopefully we will see you all again next year.
Well done to all.