Bag'em Larford Grand Masters Qualifier Sunday 28th May 2017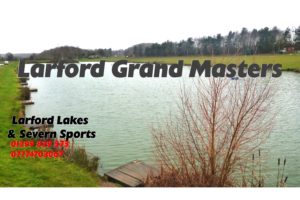 Grand Maters match fished on Specimen & Match Lakes.
Winner on the day with a massive 234-03-00 was Chris Senter (Shakespeare) who drew peg 12 on the Specimen Lake burr.
Chris caught most of his fish on pole shallow with meat & pellet plus a few late fish down his edge.
2nd placed Neil Colcombe (Larford) drew peg 68 and caught shallow on the pole with meat to weigh 145-09-00
3rd on the day was Mark Skidmore who drew peg 79 on the chalet bank of the specimen Lake, weighing 134-04-00 to pole & meat shallow.
4th on the day was Max G (PR Floats) who drew peg 76, fishing shallow on the waggler and pole at 6m. Later Max switched to his edge to finish the day with 126-13-00.
5th placed Tony Miessner drew peg 62 weighing 125-08-00
6th overall was Harry Harris (Larford) weighing 123-06-00 from peg 8 on the Specimen Lake. Harry fished shallow with meat on the pole long.