Bag'em Larford Grand Masters Qualifier 26th February 2017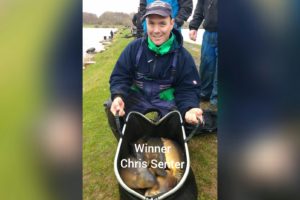 51 anglers fished today in wet & windy conditions.
Winner on the day was Chris Senter (Shakespeare) peg 42, Match burr, catching 122-01-00 of fish.
Chris caught down his edge on corn
2nd on the day was Grant Albutt (Drennan Dynamite) who drew peg 37 on the Match Burr with a weight of 115-00-00 fishing corn over pellet on pole
3rd on the day was Danny Baker (Tredegar A/C) who drew peg 26 on the Match Grass weighing in 103-03-00 on method and short pole.
4th placed Jamie Harrison (Matrix Bait- Tec) drew peg 20 on the Match grass weighing in 94-09-00.
Jamie caught on method.
5th on the day was Geoff Valance (Preston) who drew peg 6 on the Speci burr landing 91-12-00.
Geoff Caught on Method
6th on the day was Ian Wood (Bag'em Larford) who drew peg 74 on the Speci Chalet with a weight of 89-09-00.
Ian caught on Method.
Danny Baker, Geoff Valance, Brian Jones, Geraint Powell & Mark Turner all qualify for the Grand Master final.
Qualifiers for the Bag'em Larford Grand Masters Final- 
| Position | Name | Point |
| --- | --- | --- |
| 1st | HT Angling | 16 pts |
| 2nd | Brian's Boys | 19pts |
| 3rd | Cookies Monsters | 23pts |
| 4th | Tredegar AC | 25pts (weight) |
| 5th | Muffers Divers | 25pts |
| 6th | Larford Golden Reel | 29pts |
Geraint Powell & J Turner also qualifies for the Bag'em Larford Classic final too.