Bag'em Larford Classic Final 30th April & 1st May 2017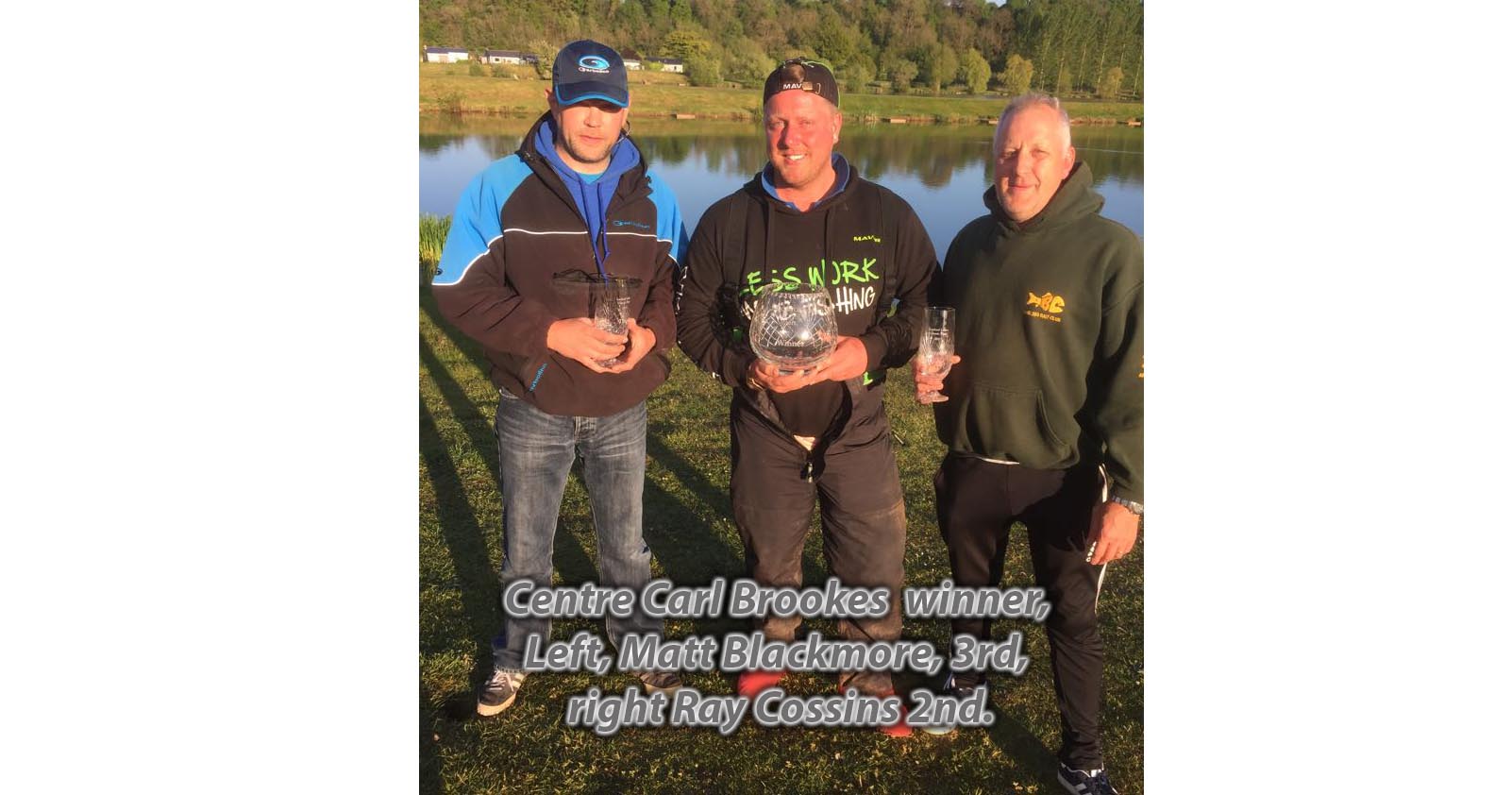 80 anglers booked on for this popular final.
Weather conditions were far from perfect with a very heavy wind on day one and heavy showers on day 2.
The conditions left the fishery fishing under par and weights were lower than normal.
That being said, multiple 100lbs weights were recorded.
Day 1 Results
| Team | Round 1 | Round 2 | Round 3 | Total |
| --- | --- | --- | --- | --- |
| Tredegar | 15 | 47 | 36 | 98 |
| Muffers Divers | 20 | 33 (weight) | 18 | 71 |
| Bag'em Winter Wonders | 23 (weight) | 12 | 14 | 49 |
| Cookies Monsters | 23 | 13 | 40 | 76 |
| Garbolino | 25 (weight) | 27 | 51 | 89 |
| Brain's Boys | 25 | 36 | 16 | 77 |
| Ledbury Tackle | 26 | 29 | 43 | 98 |
| Golden Reel Larford | 31 (weight) | 25 | 30 | 86 |
| H.T. Angling | 31 | 37 | 27 | 95 |
| Sheila's Boys | 35 (weight) | 22 (weight) | 19 | 76 |
| Old Ghost | 35 | 30 | 32 | 97 |
| Maver Harecombe | 37 | 35 | 38 | 110 |
| Marukyu | 38 | 33 | 33 | 104 |
| Miss Fits | 41 | 39 | 26 | 106 |
Day 2 Results
| Team | Round 1 | Round 2 | Round 3 | Round 4 | Total |
| --- | --- | --- | --- | --- | --- |
| Tredegar | 15 | 47 | 36 | 33 | 131 |
| Muffers Divers | 20 | 33 (weight) | 18 | 25 | 96 |
| Bag'em Winter Wonders | 23 (weight) | 12 | 14 | 32 | 81 |
| Cookies Monsters | 23 | 13 | 40 | 18 | 94 |
| Garbolino | 25 (weight) | 27 | 51 | 25 | 114 |
| Brain's Boys | 25 | 36 | 16 | 26 | 103 |
| Ledbury Tackle | 26 | 29 | 43 | 29 | 127 |
| Golden Reel Larford | 31 (weight) | 25 | 30 | 25 | 111 |
| H.T. Angling | 31 | 37 | 27 | 34 | 129 |
| Sheila's Boys | 35 (weight) | 22 (weight) | 19 | 27 | 103 |
| Old Ghost | 35 | 30 | 32 | 27 | 124 |
| Maver Harecombe | 37 | 35 | 38 | 34 | 144 |
| Marukyu | 38 | 33 | 33 | 56 | 160 |
| Miss Fits | 41 | 39 | 26 | 32 | 138 |
Overall winners of the Bag'em Larford Classic after 2 Days
1st Carl Brookes 2 points Collecting £1300 plus £100 section prizes
2nd  Ray Cossins (ABC Baits) 3 points (weight 176-13-00) Collecting £1000 & section prizes
3rd Matt Blackmore (Garbolino) 3 points (weight 175-06-00) 
4th Paul Cook (Frenzee) 3 points (135-10-00)