Anthony Jordan Memorial Match, Saturday 1st August 2020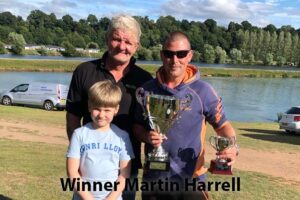 A complete sellout supporting the late Anthony Jordan who worked so hard for us at the lakes.
Proceeds are forwarded to Maria and the family for the children.
Pictured is Julian Jordan with Anthony's son, George with overall winner Martin Harrell.
1st Martin Harrell, peg 20, 164-15-0, Bomb & pellet
2nd Baz Byrd, peg 30 130-3-0, pole & pellet and long shallow pellet down edge.
3rd Mark Skidmore, peg 4, 108-6-0, pole & pellet
4th Sam Brown, peg 34, 105-0-0 pole shallow and edge with pellet.