Colmic / Bag'em Larford Lakes | Golden Reel Team Championships 20th August 2017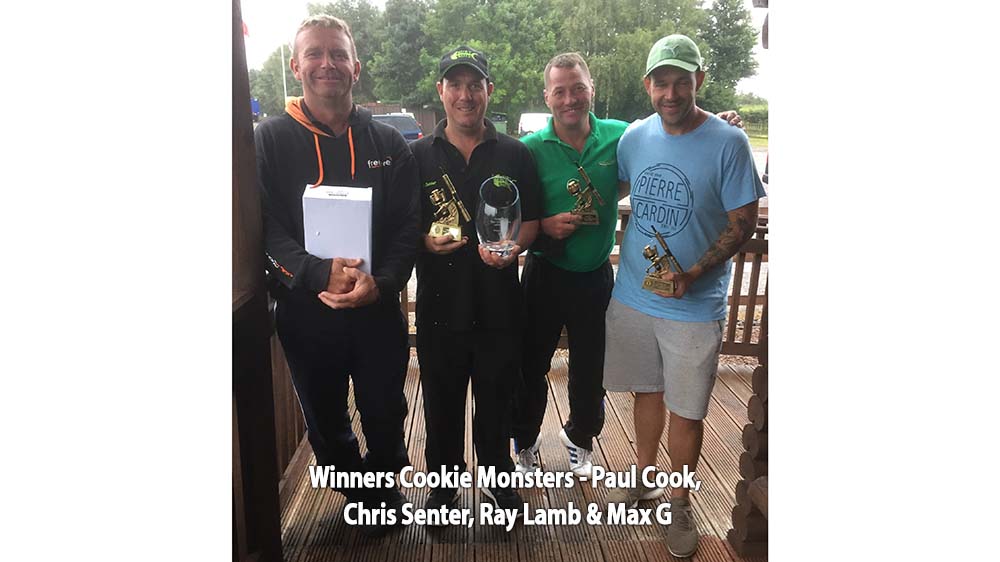 14 teams (56 anglers) lined the banks at Larford lakes to fish the golden reel team championships.
Following on from the Saturday Grand final which paid a remarkable £62,000 in prize funds, this was now the team event to win to complete the prestigious weekend events
Fishing on both the match & specimen lakes, each team of 4 had to place anglers on the match grass (section A), Match burr bank (section B), Speci burr bank (section C) & chalet bank (section D).
To win a section gave the winner 1 point and last place 14 points.
Winning team on the day was Cookie Monsters, Max G, Paul Cook, Chris Senter & Ray Lamb who scored a brilliant 12 points putting them 4 points clear of their nearest rival.
2nd placed team was Team Poland who scored a brilliant 16 points including 2 section winners.
A poor result from C section cost them the overall championship.
3rd placed Richies Baggers, Brian Clark, Dean Hunt, Mark Skidmore & Richie Lawson scored 17 points, placing them a comfortable 8 points clear of their nearest rivals.
4th overall was Colmic Baggers, Phil Briscoe, Harry Harris, Neil Colcombe & Martin Harrell who scored a total points score of 25 to beat winter wonders by the same points score but a superior overall weight.
| Position | Name | Points |
| --- | --- | --- |
| 1 | Neil Colcombe & Steve Rocke | 3 |
| 2 | Brain Clarke & Rich Lawson | 4 |
| 3 | Simon Deakin & Rich Weaver | 5 (weight) |
| 4 | Paul Cook & Ray Lamb | 5 |
| 5 | Perry Mountain & Martin Harrell | 6 |
| 8 | Eric Passey & Mark Jones | 9 |
| 9 | Peter Jones & Ali Jones | 9 (weight) |
| 10 | Ian Wood & Brian Jones | 9 |
| 11 | Carl Brooks & John Breeze | 10 |
| 7 | Simon Harris & Paul Buckall | 7 |
| 6 | Mark Skidmore & Mark Hawthorne | 7 (weight) |
Section Winners- 
Section A – Simon Richardson – 108-08-00 – £100
Section B – Chris Senter – 104-01-00 – £100
Section C – Chris Bradney – 84-01-00 – £100
Section D – Stu Homewood – 119-05-00 – £100
Winning team collected £800
2nd team collected £500
3rd team collected £350
Here is one of the match highlights – Chris Bradney with this common that weighed 30lb 11oz caught on the pole (Chris is a strapping 6ft 2 and dwarfs the fish!)