Larford Open Match Lake Sunday 18th August 2019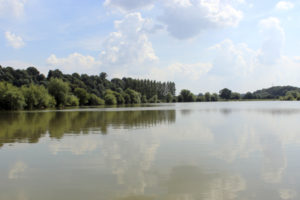 21 anglers.
Heavy rain in the week coupled with a plunge in temperature brought on an algae crash leaving the match lake crystal clear.
Fish were in numbers on certain pegs and thin on the ground in other area's.
A week of warmer weather will restore the colour for certain. All that being said, weights were still impressive.
Winner of the match was Dan Bowen from peg 26 with a weight of 192-5-0.
Dan fished the method tight to the island landing an all carp catch.
Second on the day was Simon Harris (Little Dawley) with 182-15-0 from peg 28. Simon caught all day on pellet waggler.
Third placed Ray Lamb (Larford) drew peg 46 landing 102-1-0. Ray caught all day down his edge with dead reds over ground bait.
Fourth on the day was Chris wells from peg 23 with 97-15-0. Chris caught feeding micro's down the edge and meat hook baits.
Fifth overall was Martin Harrell from peg 14.
Martin caught on method feeder and waffters weighing in 82-8-0.
Sixth on the day was Ryan Bennett from peg 64 with 81-1-0, Ryan caught short and down his edge.