Colmic / Bag'em Larford Lakes Winter League Round 5 | Sunday 14th January 2018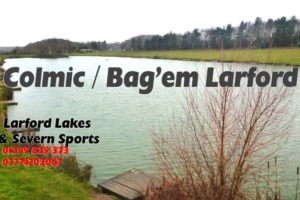 Conditions for round 5 were again difficult with a strong north breeze and bitterly cold water temperatures.
Winnner on the day was Mark Skidmore (Larford) who drew peg 48 on the Match Lake.
Mark fished a cone with pellets landing 141-07-00 of carp and F1's.
2nd on the day was Chris Cameron (Middy) who drew peg 64 on the Match Lake.
Chris fished most of his match down the edge landing 106-15-00 of carp and F1's
3rd placed Steve Rocke (Larford) drew peg 50 on the Match Lake and fished pole with pellet and corn to land 58-09-00.
4th on the day was Rob Brennan who drew peg 42 on the Match Lake. Rob fished pole with pellet & corn at 16m to land 57-05-00.
5th placed Warren Jennings (Bag'em) drew peg 62 on the Match Lake and fished long pole to land 18lb of roach and the remainder were carp down his edge for a total weight of 56-10-00
6th on the day was Ray Lamb (Larford) who drew peg 22 on the Match Lake weighing 49-05-00
Teams on the day- 
1st Cookies Monsters 14pts (weight)
2nd Bag'em Winter 14pts
3rd Garbolino 20pts 
4th Ledbury Tackle 23pts
5th Muffers Divers 26pts (Weight)
6th Golden Reel Larford 26pts
Team Points so far
| # | Team | Round 1 | Round 2 | Round 3 | Round 4 | Round 5 | Total |
| --- | --- | --- | --- | --- | --- | --- | --- |
| | Tredegar | 15 | 47 | 36 | 33 | 60 | 191 |
| | Muffers Divers | 20 | 33 (weight) | 18 | 25 | 26 | 122 |
| | Bag'em Winter Wonders | 23 (weight) | 12 | 14 | 32 | 14 | 95 |
| | Cookies Monsters | 23 | 13 | 40 | 18 | 14 | 108 |
| | Garbolino | 25 (weight) | 27 | 51 | 25 | 20 | 134 |
| | Brain's Boys | 25 | 36 | 16 | 26 | 33 | 136 |
| | Ledbury Tackle | 26 | 29 | 43 | 29 | 23 | 150 |
| | Golden Reel Larford | 31 (weight) | 25 | 30 | 25 | 26 | 137 |
| | H.T. Angling | 31 | 37 | 27 | 34 | 32 | 161 |
| | Sheila's Boys | 35 (weight) | 22 (weight) | 19 | 27 | 32 | 135 |
| | Old Ghost | 35 | 30 | 32 | 27 | 29 | 153 |
| | Maver Harecombe | 37 | 35 | 38 | 34 | 37 | 181 |
| | Marukyu | 38 | 33 | 33 | 56 | 37 | 197 |
| | Miss Fits | 41 | 39 | 26 | 32 | 49 | 187 |
Luke Webster also qualifies for the Classic final in May 2018