Colmic / Bag'em Larford Lakes Winter League Round 4| Sunday 7th January 2018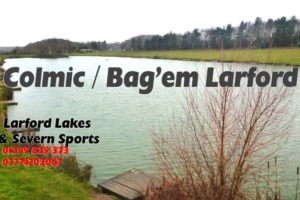 Freezing cold tempratures and a stiff wind made for difficult fishing in this latest round 4 league match.
Winner overall on the day was Darren Fisher (Allans Tackle) who drew peg 35 on the Match Lake.
Darren fished down his edge with corn for most of the match weighing 72-11-00.
2nd on the day was Matt Blackmore (Garbolino / Dynamite) who drew peg 18 on the Match Lake.
Matt fished the method feeder with waffters landing 56-01-00
3rd placed Elliot Johnson (Vespe) who drew peg 74 on the Specimen Lake, casting just 9m on the method feeder with corn to land quality carp for 53-07-00.
4th on the day was Mark Skidmore (larford) who drew peg 46 on the Match Lake fishing the cone with Maggott weighing 52-06-00.
5th placed Carl Brookes drew peg 4 on the Match Lake and fished long pole with pellet landing 49-00-00
Carl also qualifies for the Classic Final.
6th on the day was Rob Wiltshire (Cwmbran Nobblers) who drew peg 62 on the Specimen Lake.
Rob fished the method feeder landing 43-03-00.
Teams on the day- 
1st Cookies Monsters 18pts
2nd Muffers Divers (Weight) 25pts
3rd Golden Reel Larford (Weight) 25pts
4th Garbolino 25pts 
5th Brian's Boys 26 pts
Team Points so far
| # | Team | Round 1 | Round 2 | Round 3 | Round 4 | Total |
| --- | --- | --- | --- | --- | --- | --- |
| | Tredegar | 15 | 47 | 36 | 33 | 131 |
| | Muffers Divers | 20 | 33 (weight) | 18 | 25 | 96 |
| | Bag'em Winter Wonders | 23 (weight) | 12 | 14 | 32 | 81 |
| | Cookies Monsters | 23 | 13 | 40 | 18 | 94 |
| | Garbolino | 25 (weight) | 27 | 51 | 25 | 114 |
| | Brain's Boys | 25 | 36 | 16 | 26 | 103 |
| | Ledbury Tackle | 26 | 29 | 43 | 29 | 127 |
| | Golden Reel Larford | 31 (weight) | 25 | 30 | 25 | 111 |
| | H.T. Angling | 31 | 37 | 27 | 34 | 129 |
| | Sheila's Boys | 35 (weight) | 22 (weight) | 19 | 27 | 103 |
| | Old Ghost | 35 | 30 | 32 | 27 | 124 |
| | Maver Harecombe | 37 | 35 | 38 | 34 | 144 |
| | Marukyu | 38 | 33 | 33 | 56 | 160 |
| | Miss Fits | 41 | 39 | 26 | 32 | 138 |
Carl Brookes also qualifies for the Classic final in May 2018