Larford Grand Masters | 29th January 2017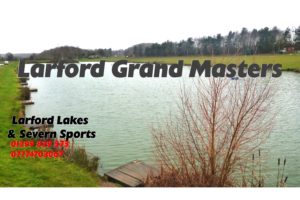 36 anglers turned out in freezing cold condition, both the Match Lake and Specimen Lake were frozen first thing followed by ice cold rain all day.
Winner on the day was Chris Senter (Shakespeare) who drew peg 62 on the Specimen Lake.
Chris had an early carp on Method and later switched to long pole landing bream to soft pellets.
Chris finished the day with 46-01-00 collecting £300
2nd on the day was Andy Fullylove (Preston) who drew peg 24 on the Arena Lake.
Andy caught late in the match with pole & pellet weighing 43-09-00. Andy collected £150
3rd on the day was Chris Shepherd who drew peg 21 on the Arena Lake. Chris caught on Method weighing 35-02-00 collecting £100
4th placed Max G (PR Floats) drew peg 37 on the Match Lake and caught on both the long pole and waggler weighing 32-06-00 and collecting £80
5th on the day was Jamie Harrison (Matrix Bait -Tec) who drew peg 66 on the Specimen Lake landing 26-04-00 to open end feeder. All Jamie's fish were bream.
6th on the day was Phil Briscoe (Larford) who drew peg 46 on the Match Lake. Phil caught 2 early carp to Method and later switched to waggler to catch 25-07-00 of bream.
Chris Senter, Andy Fullylove, Chris Shepherd, Jamie Harrison & Phil Briscoe all qualify for the Grand Master final.
Qualifiers for the Grand Masters Final- 
| Position | Name | Point |
| --- | --- | --- |
| 1st | HT Angling | 16 pts |
| 2nd | Brian's Boys | 19pts |
| 3rd | Cookies Monsters | 23pts |
| 4th | Tredegar AC | 25pts (weight) |
| 5th | Muffers Divers | 25pts |
| 6th | Larford Golden Reel | 29pts |
Chris Shepherd also qualifies for the Larford Classic final too.