Larford Classic Qualifier Sunday 5th February 2017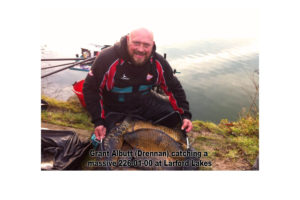 28 anglers fished the Specimen in freezing cold conditions and another keen frost made for difficult conditions.
That being said, a tremendous weight won the day.
Grant Albutt (Drennan) won the match with a massive 226-01-00 of quality carp from peg 78 on the Chalet bank.
Grant caught all his fish on the pole, fishing corn over micro pellet short and down his edge, winning the match by a country mile.
2nd on the day was Jamie Harrison (Matrix)  who drew peg 15 on the Burr. Jamie fished cage feeder and dead maggot to weigh 45-04-00.
3rd on the day was Chris Jones (Frenzee)  who caught on Method early and later fished pole at 13m with pellet to catch some skimmers and bream weighing 32-09-00.
4th on the day was Phil Briscoe (Larford) who drew peg 27 landing 2 early carp to the Method, backed up with a quantity of roach & skimmers on the waggler. Phil weighed 32-04-00.
5th placed Paul Cook (Frenzee) who drew peg 67 weighing 28-02-00
6th placed Brian Clark (Vespe) drew peg 52 weighing carp & bream to the feeder for 27-06-00.
Jamie Harrison qualifies for the May 2017 final.
Qualifiers so far-
| Position | Name | Point |
| --- | --- | --- |
| 1st | Winter Wonders | 63 pts |
| 2nd | Tredegar AC | 75pts |
| 3rd | Garbolino & Larford | 77pts |
For more details of the Larford classic click here