Bag'em Larford Lakes | August Festival 2017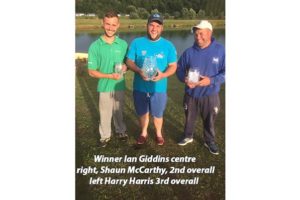 Again, a sell out for this popular annual festival at Larford Lakes. 60 anglers made their draw for sections on both the Specimen, Match and Arena Lakes.  

Scored on a points system with weight coming into play in the event  of a tie it was local angler Ian Giddins who finally took the honors.  
Ian had a favorable draw on most days and made full advantage of 3 end pegs out of five.  

That being said, he fished a superb festival scoring 7 points and a total weight of 290-220kilos (644lbs) averaging 129lbs per day.  
The Bag'em sponsored angler collected £1000 plus lake and section wins totaling around £1500 in prize funds. 
Second overall was Shaun McCarthy (Mossella) who fished brilliantly from some difficult pegs. 
Shaun also scored 7 points in total but had a lesser overall weight of 233-550kilos (518lbs) 103lbs per day. 
Local angler Harry Harris (Larford) turned in a great performance scoring 9 points over the 5 days and recording a weight of 222-360kilos (493lbs) 99lbs of fish per day as an average. 
Fourth overall was Grant Albutt (Drennan) scoring a point total of 9 but decided by weight with 182-480kilos 405lbs. 
Fifth was also a 9-point total and went to Warren Jennings (Bag'em) with a weight over the 5 days of 154-200 kilos (342lbs) 
Sixth place went to Andy Power (Preston) with a 10-point total and an overall weight of 229-280kilos (509lbs). 
| Position | Name | Point | Pools winnings |
| --- | --- | --- | --- |
| 1st | Ian Giddins (Bag'em) | 7pts | Collecting £1500 |
| 2nd | Shaun McCarthy (Mossella) | 7pts | Collecting £1000+ |
| 3rd | Harry Harris (Larford) | 9pts | Collecting £650+ |
| 4th | Grant Albutt (Drennan) | 9pts | |
| 5th | Warren Jennings (Bag'em) | 9pts | |
| 6th | Andy Power (Preston) | 10pts | |
The festival week produced a total of 8,100kilos of fish over the 5 days (17,982lbs) averaging 305lbs per man 
A brilliant week enjoyed by all of the 60 competitors 
Due to the popularity of the event, names are already being taken for the 2018 event.